Kenneth Branagh to Receive Special Olivier Award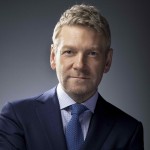 Mar 05, 2017
Award-winning actor Kenneth Branagh, Harry Potter and the Chamber of Secrets, Professor Gilderoy Lockhart, will be the recipient of the Special Award at the 2017 Olivier Awards ceremony scheduled for Sunday, April 9 at London's Royal Albert Hall.
The Laurence Olivier Awards, or Olivier Awards are recognized nationally as the highest honor in British theater. The Special Award is given in honor of lifetime achievement in theater, which Branagh has displayed, both as an actor and director, since he won the Olivier Best Newcomer Award in 1982 for his role in Another Country.
According to the Official London Theater, the President of the Society of London Theatre, Caro Newling, said this about Branagh's recognition,
"The Society of London Theatre is delighted to formally celebrate Kenneth Branagh's outstanding contribution to London theatre. Whether acting or directing, there is no greater advocate for our industry".
Branagh has been on stage in numerous productions of Shakespeare over the span of his career including Henry V, Romeo and Juliet and Twelfth Night. He also starred with Harry Potter alum and former wife, Emma Thompson in the play Look Back in Anger in 1989. He won a Critics Circle Award his performance in Tom Stoppard's version of Ivanov in 2008 and made his New York stage debut in 2014 when he co-directed and played the title role in MacBeth. In 2015 Branagh announced the formation of the Kenneth Branagh Theatre Company which opened its first season last year.
Nominations for the Olivier Awards will be announced Monday, March 6 at noon GMT.
We applaud Kenneth Branagh on this exceptional honor!