UPDATED: Jim Kay's Illustrated 'Prisoner of Azkaban' Cover Revealed!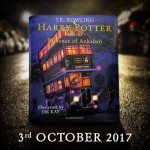 Mar 07, 2017
The cover of Jim Kay's Prisoner of Azkaban has been revealed by Bloomsbury, and it's every bit as beautiful as the previous instalments!
The third in Kay's series of illustrated Potters, Prisoner of Azkaban features a glowing Knight Bus on its cover, and we can't WAIT to get our hands on it.
Take a closer look at the cover below:
REVEALED: the stunning cover for the next #HarryPotterIllustrated #PrisonerofAzkaban by #JimKay – out 3rd Oct https://t.co/0bIJrQr0Kh pic.twitter.com/MUiLMot14C

— Bloomsbury Kids UK (@KidsBloomsbury) March 7, 2017
More information from Bloomsbury:
"An extraordinary creative achievement by an extraordinary talent, Jim Kay's inspired reimagining of J.K. Rowling's classic series has captured a devoted following worldwide. This stunning new fully illustrated edition of Harry Potter and the Prisoner of Azkaban brings more breathtaking scenes and unforgettable characters – including Sirius Black, Remus Lupin and Professor Trelawney. With paint, pencil and pixels, Kay conjures the wizarding world as we have never seen it before. Fizzing with magic and brimming with humour, this full-colour edition will captivate fans and new readers alike as Harry, now in his third year at Hogwarts School of Witchcraft and Wizardry, faces Dementors, death omens and – of course – danger."
Always a favourite amongst fans, PoA is bound to be a beautiful creation by Kay. Preorder the book at 30% off (in the U.K.) here, or on Amazon here. Jim Kay's Prisoner of Azkaban is set to be released on October 3rd this year.
UPDATE: Pottermore's exclusive sneak peek inside Prisoner of Azkaban
Pottermore have revealed previews into the latest Jim Kay book, commenting:
"The Illustrated Edition of Harry Potter and the Prisoner of Azkaban includes over 115 new graphics and is to be translated into over 21 languages around the world.
The third book in the Harry Potter series marked a notable change in tone, towards darker territory, as well as the introduction of key characters such as Sirius Black and Professor Trelawney. The Illustrated Edition will no doubt bring those new additions to life, and in Jim Kay's distinctive style."
It'll be exciting to see Kay bring Buckbeak to the page, as well as the Dementors – what are you most excited to see brought to life?
See a couple of photos from Pottermore below, and their full gallery here.