Harry Potter Cast Sneaks into the Forbidden Forest
Mar 08, 2017
The greatly anticipated Forbidden Forest expansion at Warner Bros. Studio Tour London opens March 31st. The tour will include a full size model of Buckbeak and Aragog, as well as nineteen massive (over 12-ft diameter!) trees. Four Harry Potter actors gave the tour a test run before it opens to the public, and shared a sneak peak of the expansion on social media.
Jason Isaacs (Lucius Malfoy), Evanna Lynch (Luna Lovegood), Oliver Phelps (George Weasley), and James Phelps (Fred Weasley) got to experience the intricate detail of the set pieces up close. (Click to enlarge)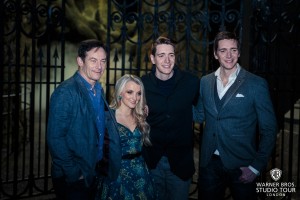 In her usual excited fashion, Evanna shared her experience on Instagram, saying:
"They never let me cuddle the animals on set! Now look at us! You probably won't be able to cuddle them either BUT you can experience the Forbidden Forest and bow to this bleary eyed Buckbeak on March 31st at the Studio Tour in London!"
Just remember to use your manners around the hippogriff, or you might regret it! Jason Isaacs (below) could not have had a more opposite reaction to Buckbeak than his character. Here he is giving it a loving pat:

Read more about the exhibit here, and purchase tickets at the WB Tour London website!