'Hamilton' and 'Harry Potter' Share More Than Just Stage Magic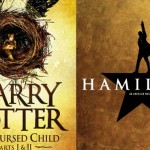 Mar 10, 2017
The groundbreaking, musical Hamilton and the award-winning West End play Harry Potter and the Cursed Child seem to share more than just a color scheme these days. Among numerous other awards and accolades, Hamilton had a record 16 Tony nominations and 12 wins in 2016. Across the pond, Harry Potter and the Cursed Child has scored a plethora of recognition, including a history-making 11 Olivier Award nominations this week. It is virtually impossible to get tickets to either production, which has posed a critical issue with scalping for both shows, as reported here by Leaky last month. To round out some of these similarities, the rap musical and the wizarding play will be switching continents in the near future as Hamilton's West End opening is set for November 2017 and Cursed Child starts its run on Broadway in 2018.
The shows' respective creators, each a wordsmith extraordinaire, seem to be bona fide members of a mutual admiration society, as evidenced by their twitter exchange from late last year, as well as this selfie taken at the 2017 BAFTA Awards:
POP CULTURE EVENTS FROM WHICH I HAVE STILL NOT RECOVERED, MANY YEARS LATER: A thread by Lin-Manuel Miranda

— Lin-Manuel Miranda (@Lin_Manuel) December 7, 2016
THIS MOMENT, @jk_rowling:
"I am not worried, Harry,"said Dumbledore, his voice a little stronger despite the freezing water."I am with you."

— Lin-Manuel Miranda (@Lin_Manuel) December 7, 2016
Cannot tell you what this means (from you), because this moment is one of my very favourites. Always feel HBP gets overshadowed by DH… https://t.co/94cwNSCa2H

— J.K. Rowling (@jk_rowling) December 8, 2016
To which Miranda replied,
HBP is my favorite PRECISELY because of this reprise of Dumbledore's "You are with me" at the beginning.
You're deadly w a reprise, maestro
In addition to each productions' celebrated status, both shows are now part of a U.S. regulator's expanded lawsuit accusing two New York men of running a Ponzi scheme centered on the resale of tickets to some high profile concerts, as well as to these two theater blockbusters in London and New York. The men raised more than $97 million from at least 138 investors in 17 states. According to an article from USA Today, investors were told that their funds would be merged to buy thousands of tickets that would then be resold for a profit. The defendants allegedly told investors they would be purchasing 250,000 tickets to Cursed Child and 35,000 tickets to the sold-out Hamilton. Ticket fraud, an unfortunate downside to the remarkable popularity of both productions, has been addressed on an ongoing basis by their creators and producers as reported here by Leaky.
A few other connections have appeared in the news recently, such as actors from both plays signing with the same talent agency (see here and here) and Cursed Child's Albus Potter, Sam Clemmett scoring tickets to Hamilton during a visit to New York:
I'm a little excited to say the least…. See you later @HamiltonMusical pic.twitter.com/qNmMpmUrLJ

— Sam Clemmett (@sam_clemmett) March 9, 2017
In conjunction with her HeForShe campaign, Emma Watson even interviewed Lin Manuel Miranda after seeing his musical last year, and discussed sorting Hamilton's historic characters into Hogwarts Houses. Take a look at what they came up with:

As seen here, the architect of Hamilton: The Musical and professed Harry Potter fan Lin Manuel Miranda and his wife, managed to find their way to the Palace Theater to see Cursed Child on a 2016 trip to London and "Keep the Secrets"!
Might there be a Hamilton ticket in J.K. Rowling's future? With the opening of its London run later this year and all of these apparent links between these hit shows, it certainly seems possible!
Watch this MSN video on the uncanny similarities between Cursed Child and Hamilton.