Trouble is Brewing for Zoe Kravitz in Two New Films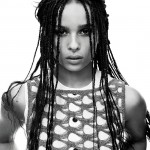 Mar 11, 2017
Zoe Kravitz, newly-introduced to the Potter fandom as Leta Lestrange in Fantastic Beasts and Where to Find Them, has a busy schedule ahead of her. Leaky recently reported on her involvement in the upcoming limited HBO series Big Little Lies, and now she'll be appearing onscreen in two new films within the next few months!
First out is the mystery thriller, Gemini, directed by Aaron Katz. Kravitz stars as Heather Anderson, a Hollywood actress entangled in a troubling criminal investigation driven by Detective Edward Ahn (John Cho.) Lola Kirke plays Jill LeBeau, the personal assistant of Kravitz's character, Anderson.
IMDb.com gives the following synopsis:
"A heinous crime tests the complex relationship between a tenacious personal assistant and her Hollywood starlet boss. As the assistant unravels the mystery, she must confront her own understanding of friendship, truth, and celebrity."
Entertainment Weekly shares this exclusive first look photo of the two women. It seems evident from the tonal duality of the picture that Katz will be creatively highlighting the film's dramatic intrigue, as well as the complicated shifts in their relationship.
Gemini premieres March 12th at the Austin, Texas festival SXSW.
And that's not the only trouble Kravitz will be getting into–she stars in a second female-driven venture titled Rough Night. This film also centers around a crime, but with a comedic twist.
Kravitz plays Blair, a woman who reunites with friends Pippa (Kate McKinnon), Alice (Jillian Bell), and Frankie (Ilana Glazer) for a Bachelorette Weekend celebrating the upcoming wedding of their friend, Jess (Scarlett Johansson). The reunion goes awry, however, when they accidentally kill a male stripper–and must figure out what to do next.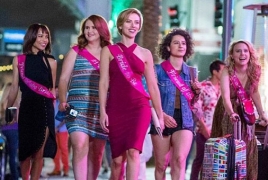 According to PanARMENIAN.net, Kate McKinnon said of Kravitz:
"[She] is a great lady. Blair is so uptight and Zoe is so cool in real life. I think that her coolness in real life is adding another dimension to this character and it's really cool to watch."
It will be interesting to see how Kravitz and her crew get themselves out of this mess before their detour off the road to matrimonial bliss reaches a point of no return! Rough Night is scheduled to release in U.S. theaters June 16th. Check out the trailer below.
Warning: Content and language advisory.