Emma Watson Shares Her Love of Books With Kids Film Society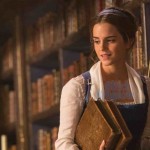 Mar 15, 2017
Emma Watson arrived at the Lincoln Center in New York City, Monday, ready to share her love for books with The NY Film Society For Kids.
It didn't hurt that she appeared in a golden yellow gown reminiscent of the iconic dress worn by her latest film character, Belle, in Beauty and the Beast. The move was a nod to the role which may soon become one of her most memorable, cherished by fans alongside that of Hermione Granger, another book lover.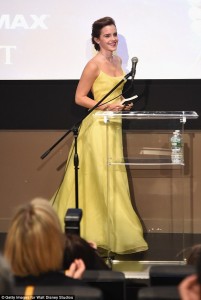 That Watson plays so many intelligent, independent female characters onscreen would seem ironic, except that she happens to be equally smart, strong, and well-read herself, and those strengths and natural enthusiasm seem tailor-made for these roles.
It's a perfect marriage–and model–for these kids, fans of film themselves, to hear that a love for reading is a good thing. It's not just the hobby of a favorite character in a popular fairy tale. It's a real, life-long love and pursuit, something they too can enjoy!
The Daily Mail cited an interview Watson gave last year in which she admitted to finally embracing the similarities between Hermione and herself. She told the Huffington Post:
"I feel as though I spent a long time trying to pretend I was not like Hermione. And, of course, I was rather like Hermione."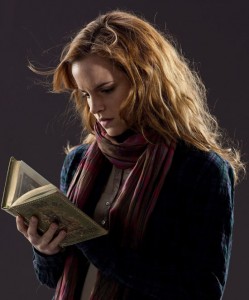 Relating to film characters fans the flame of sparked interest, and Watson knows these stories communicate important messages to watching audiences young and old. She told Mashable:
"[Books are] so powerful and they have the ability to change your life and your outlook, and this story really speaks to that, the sacred nature of books and their ability to transport you and empower you."
Leaky reported that Watson likewise told Vanity Fair:
"When I finished [Beauty and the Beast], it kind of felt like I had made that transition into being a woman on-screen…[Belle is] absolutely a Disney princess, but she's not a passive character—she's in charge of her own destiny."
Watson was also quoted as saying:
"I grew up on film sets, and books were my connection to the outside world. They were my connection to my friends back at school because if I was reading what they were reading we'd have something in common. Later in life, they became an escape, a means of empowerment, a friend I could rely on."
She seems to know that part of charting your own path, like Belle, means being knowledgeable about the world you're journeying through, whether you're venturing through a fantasy land or your own. There's no better way to do that than being well-read, since every book has its own valuable lessons to impart.
And that, in itself, is a great lesson for kids to learn.