Happy Birthday, Steve Kloves!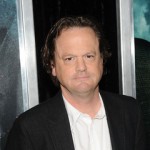 Mar 18, 2017
Steve Kloves – screenwriter of seven of eight Potter films and helping pen on Fantastic Beasts – celebrates his 57th birthday today. After such huge achievements in the movie industry, we'd like to wish him a very special day!
Kloves chatted to J.K. Rowling shared a chat in 2010 about missing writing Potter, and we hope that Fantastic Beasts is proving equally fulfilling for the two talented writers:
He spoke of being guided by Rowling since the beginning in an interview with the New York Times:
"I took my cues from Jo," Mr. Kloves said, speaking of Ms. Rowling. "The first day I met her, she said: 'I know the movies can't be the books. All that I ask is that you be true to the characters.' And I believe I've fulfilled that request."
David Yates told us about how Kloves was involved in the writing process during our interview with him and David Heyman back in November:
"What Steve [Kloves] and I would do often is we would read the script with her, so we'd be in a room like this and we would sit around a table, and I would read twenty pages, then Jo would read twenty pages, and as you read the script it sort of floats into the room in front of you, and you can hear the story, you can feel it, and hear the characters speak. At that process you start to discuss what's working, what's not working."
Kloves will write-direct-produce the 2018 live-action and motion-capture retelling of Jungle Book by Warner Bros, announced in 2012. The film stars Benedict Cumberbatch (Shere Khan), Cate Blanchett (Kaa) and Christian Bale (Bagheera), and also directed by Andy Serkis (Lord of the Rings), who will also star as Baloo. Look out for more updates on Kloves' project in the coming months.
Join us here at The Leaky Cauldron in wishing Kloves a very happy birthday!