Daniel Radcliffe's Stage Run Extended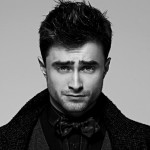 Mar 27, 2017
It looks like the Boy Who Lived will be bringing Shakespearean laughs to the West End stage a little longer this spring than originally planned. Due to the popularity of director David Leveaux's 50th anniversary presentation of Rosencrantz and Guildenstern Are Dead, Daniel Radcliffe and company's run at the Old Vic Theatre has been extended one week, through May 6.
In addition to the extra week of performances, Radcliffe and his Guildenstern co-star Joshua McGuire will be interviewed on May 2 at a" Voices Off " event, a program offered by The Old Vic for conversation inspired by their productions.
As previously reported by Leaky, National Theatre Live will also broadcast the April 20th performance of Rosencrantz & Guildenstern Are Dead from The Old Vic to select cinemas around the UK.
Tickets for the added week of shows went on sale at noon March 27.
Bravo to Daniel Radcliffe and company for a fantastically successful production. Methinks an encore is in order!
Let us know if you've been lucky enough to catch a performance!