'Fantastic Beasts' Is Now Available on Blu-ray and DVD!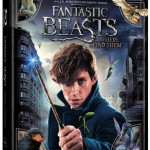 Mar 29, 2017
A reminder to all witches, wizards, and No-Majs: Fantastic Beasts and Where to Find Them is now available to own on Blu-ray and DVD! The Blu-ray comes with new special features, including deleted scenes and featurettes.
If you're in the United States, you can order your copy through Amazon here. Canadian and UK fans can order their copies through Amazon as well, here and here respectively. Like the Harry Potter films in the past, different editions are also being released by different stores (for example, Target's Blu-ray comes with exclusive character cards and a special Newt-themed slipcase).
If you'd like to find different editions of the Blu-ray release, there is a list of all the editions around the world on Blu-ray.com. Grab some popcorn or a glass of Butterbeer and enjoy!