Jude Law Cast as Albus Dumbledore in 'Fantastic Beasts'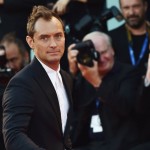 Apr 12, 2017
Pottermore have just confirmed that acclaimed actor Jude Law will be portraying a younger Albus Dumbledore (a Transfiguration professor at Hogwarts) in the next Fantastic Beasts film, coming 16th November, 2018!
Welcome to the Wizarding World family, Jude Law! https://t.co/axrt5P9fXP

— Fantastic Beasts (@FantasticBeasts) April 12, 2017
We're assuming this means Jude Law and Johnny Depp will interact at some point, and we'll see Eddie Redmayne and Jude Law together on screen as well. Yates reportedly said of the casting:
"Jude Law is a phenomenally talented actor whose work I've long admired and I'm looking forward to finally having the opportunity to work with him. I know he will brilliantly capture all the unexpected facets of Albus Dumbledore as J.K. Rowling reveals this very different time in his life."
Law has worked alongside Ralph Fiennes (Voldemort), Helen McCrory (Narcissa Malfoy), Frances De La Tour (Madame Maxime) and Richard Griffiths (Vernon Dursley) throughout his career.
Dumbledore is a central character within both Fantastic Beasts and Harry Potter, so this is huge news, we can't wait to hear from Jude Law following the casting, and we'll be sure to bring word as soon as we know anything!
We can't wait to see his portrayal of such a well known character – what do you think of the casting news?
Read the full announcement from Pottermore here.