Cheers to Emma Thompson on Her Birthday!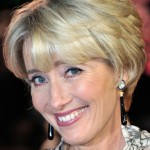 Apr 15, 2017
Today we celebrate the birthday of award-winning British actress, screenwriter and activist, Emma Thompson, who coincidentally shares a birthday with the other Harry Potter "Emma", and her recent Beauty and the Beast co-star, Emma Watson. As most Potterheads know, Thompson played Hogwarts wacky Divination Professor Sybil Trelawney in Prisoner of Azkaban, Order of the Phoenix and Deathly Hallows, Part 2.
Thompson can currently be seen in theaters as the matronly teapot, Mrs. Potts, along with Watson's Belle in Disney's live action remake and box office smash Beauty and the Beast. Thompson, who started out her career as a comedian, sings the iconic title song that was performed by Angela Lansbury in the original animated version. Take a listen to a line or two of her rendition as well as a taste of her sense of humor in this interview with CTV's The Social:
Another film that helped make Thompson one of the most recognized British actresses in the industry, was her role as wife Karen to beloved Potter alum, the late Alan Rickman's Harry in the 2003 pop classic Love Actually. As reported here by Leaky, Thompson opted not to participate in the recent Red Nose Day Love Actually mini-sequel because she felt it was too soon after Rickman's death to deal with a possible current storyline.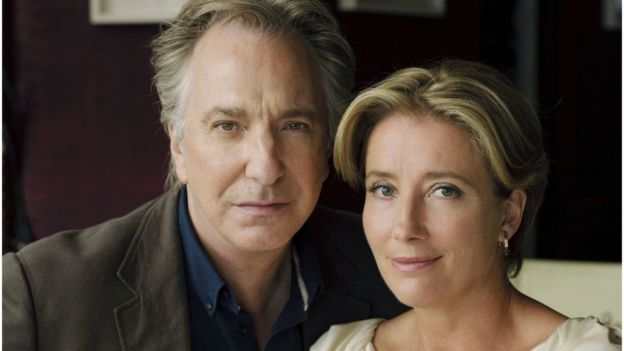 Like many of her other fellow Wizarding alumni, Thompson is involved with various social issues and doesn't hesitate to make her concerns known. Leaky reported last month that she wrote a letter to Members of Parliament regarding their policies on assistance to children refugees who have fled dangerous situations. The plea was precipitated by the actress's own experience adopting a son from Rwanda. In another justice-seeking effort last year, Thompson entered some private farmland being used by a corporate energy firm engaged in fracking and staged a Greenpeace-backed protest there. The farmer, who wasn't happy about her trespassing or concerned with Thompson's notoriety, sprayed her with manure!
Most recently Thompson has been vocal in the media about the pressure on women in the entertainment industry to be thin. In sharing her views on the subject with the hosts of the Norwegian-Swedish talk show Skavlan, she disclosed the following story about an experience with a co-star,
"There was a wonderful actress in a film I did called Brideshead Revisited. The producer said to her, 'Will you lose some weight?' And she was absolutely exquisite! I said to them, 'If you speak to her about this again, on any level, I will leave this picture. You are never to do that."
Thompson followed with,
"It's evil what's happening and what's going on there, and it's getting worse. The French fashion industry said they would get rid of size zero and then, you know, they didn't . . . The anorexia—there's so many kids, girls and boys now, and actresses who are very, very thin into their 30s, who simply don't eat. They don't eat . . . Sometimes there are just some subjects that you absolutely have to make noise about because it's so tedious and it's gone on and on."
It's nice to know that one of the Potter family are not only looking out for these young actresses, but are willing to speak out against the establishment regarding all of these issues. Join us in thanking Emma Thompson for her voice and wishing her all the best on her 58th birthday!
We prophesy, Professor Trelawney, that it will be a wonderful day!