Happy Birthday, David Bradley!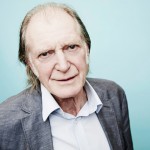 Apr 17, 2017
Today the Harry Potter fandom celebrates David Bradley's 75th year! Portraying the character of Argus Filch across eight films was by no means glamorous, but Bradley did it with aplomb, embracing every unlikeable quality and somehow managing to make him more empathetic than he might otherwise have been. So we can't celebrate the man without also celebrating the actor!
Filch loved his cat, Mrs. Norris, almost as much as he loved enforcing the rules. With equal passion and energy, he disliked the students who broke them, spending as much time searching the castle for offenders as he devoted to caretaking.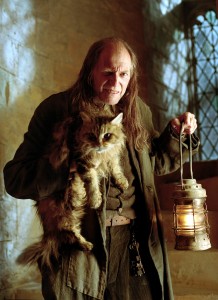 He got along famously with Professor and High Inquisitor Dolores Umbridge and took great pleasure in leading her inquisitorial squad on regular witch hunts for Dumbledore's Army.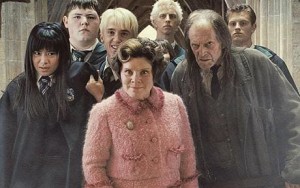 However, in spite of his antipathy to the average Hogwarts student, viewers couldn't help feeling sorry for him upon seeing his distress when Mrs. Norris was petrified. Bradley managed to show some of the deeper despair behind Filch's bitter everyday demeanor–the loneliness of a squib in a world of wizards whose only friend was a feline that couldn't look down on him.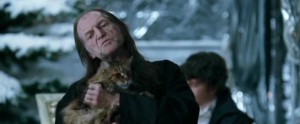 He might have worn a perpetually sour expression–even when dancing–but Bradley's wholehearted commitment to the role contributed to making the Harry Potter film series such an amazing adaptation in the way it so closely captured the spirit of JK Rowling's incredible characters.
Yet, that's not even the tip of the iceberg when it comes to Bradley's long acting career! He began working as an actor in 1971, steadily garnering parts in television series until he was cast in Sorcerer's Stone. After his casting as Filch brought him more widespread attention, he added other films to his repertoire.
He went on to nab roles in films such as Nicholas Nickleby, Exorcist: The Beginning, Captain America: The First Avenger, and The Holding, as well as continued television work in the popular series Ideal, The Tudors, Doctor Who, Broadchurch, Prisoner's Wives, Mount Pleasant, Game of Thrones, and The Strain, among many others.
Most recently, Bradley filmed Await Further Instructions, a UK thriller in which he plays the Grandad. Imdb.com describes the film as follows:
"Sealed inside their house at Christmas, a dysfunctional family receive disturbing messages through their television that pits them against each other in a terrifying battle to survive."
That does sound terrifying but, as Bradley is part of our Potter family, we wish him well in all his endeavors, today and every day! Here's to many more years–and many more years in film and television!
Feature photo used courtesy of Getty images.