A Birthday Shout Out to David Tennant!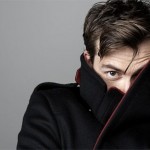 Apr 18, 2017
Who are we celebrating today?! The Doctor, that's who. David Tennant turns 46, and we're duly impressed by how much he's already accomplished in his acting career, racking up three decades of steady work in theater, television, and film.
Tennant is best known to Potter fans as the sly and squirrelly Barty Crouch Jr., a devoted Death Eater and talented wizard, whose skills enabled him to capture and use the formidable auror, Mad-Eye Moody, for his dark purposes in Harry Potter and the Goblet of Fire.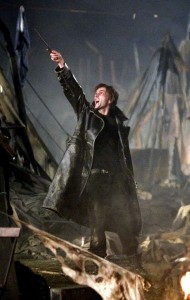 To many others around the world, however, Tennant is known for the role that made him a household name, Doctor Who. And in taking on the long coats and control of the Tardis, he not only became a fan favorite, but he also fulfilled a childhood dream.
According to his Imdb.com bio, Tennant developed an early fascination with the series and decided from the young age of three or four that he wanted to be an actor. In fact, he spent much of his time in Paisley Grammar School writing about his love of Doctor Who and of his professional aspirations.
In pursuit of those lofty goals, he auditioned for the Royal Scottish Academy of Music and Drama (now Royal Conservatoire of Scotland) and won a coveted spot. After graduating from drama school, he found steady work in both stage and television, catching his "big break" in 1994 with a leading role in Takin' Over the Asylum.
Roles in other television series followed, including leading turns in Blackpool and Casanova, when in 2005, the stars aligned and he was cast in both Goblet of Fire and Doctor Who, two series with incredible, committed fan followings.
He continued in the titular role through 2009, deciding to leave at the height of his popularity while the part was still immensely satisfying, the embodiment of all his youthful enthusiasm and professional optimism. He told the Radio Times:
"I'm very glad it happened. Mercifully, I haven't been type-cast and it opened more doors than it closed. I was never bored, but I wanted to make sure I left before it became a job."
Tennant left with a purpose, bursting through all those open doors. He took on Shakespeare with parts in Hamlet, Much Ado About Nothing, and Richard II. He continued his exemplary work in television and film and then, in 2013, snagged another hit with the role of DI Alec Hardy in Broadchurch, which aired its final episode just last night after three seasons.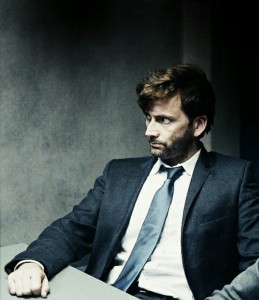 We won't mention any spoilers (you're welcome), but we will cite Digital Spy's end-of-series review. The article noted:
"It didn't exactly feel like this was the final ever episode. David Tennant's Hardy and Olivia Colman's Miller simply parted ways by saying they'd see each other tomorrow. No grand exit, not even a symbolic cheesy turning off of a lightswitch. You'd be forgiven for thinking this was simply an end to a regular season and that it was coming back in a couple of months. It all just kinda… ended."
This is only one of the reasons why it goes on to critique the series, adding to it the accusation of inconsistency, at times sacrificing the practical pacing of the procedural to spotlight the personal lives of the main characters. It observes:
"Broadchurch at its best was one of the best crime dramas the UK has ever produced. But conversely, it can also be one of the most frustrating. Series 3 was much better than its disappointing predecessor, but it never quite caught the public's imagination like its first run.

"What is absolutely true is that we would never get enough of Hardy and Miller."
Perhaps this is the real root of the article's harsh analysis. The focus on the tendency to vacillate between brilliance and alleged lackluster plot development may mask that simple underlying truth–that the public will sorely miss the two leads. Perhaps the disappointment of not meeting with them again is part of the driving force behind the critique, when really, the ending seems fitting for two well-loved characters. We like to think of Hardy and Miller continuing on, fighting crime another day. And another. And another. No fanfare, just a case closed and a new day ahead.
It's a great testament to Tennant's charisma and skill as an actor that he so well inhabits such strong roles and manages to grab the attention–and hearts–of his audience, always leaving them wishing for more. Though he will be missed as Hardy, fans of his talent can still see him on stage in Don Juan in Soho, currently running at the Wyndham Theater through June 10th.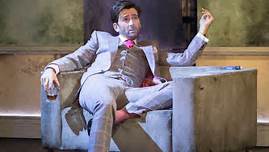 Leaky previously reported the following synopsis of the play:
"Loosely based on Molière tragicomedy 'Don Juan', this savagely funny and filthy modern update transports the action to contemporary London and follows the final adventures of its debauched protagonist – a cruel seducer who lives only for pleasure."
On Tennant's performance, The Independent exclaimed that he "is every bit as magnificent in the title role here as he was as Hamlet in Gregory Doran's celebrated RSC production." High praise, indeed!
We wish much continued success to the man who reminds us that, sometimes, dreams really do come true. And if there's any day to celebrate that, it's on his birthday. Cheers, David Tennant! Best wishes from the Harry Potter fandom and Leaky crew!