James and Oliver Phelps Tease New Project–Will They Make the Move to Television?!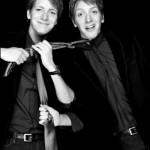 Apr 19, 2017
James and Oliver Phelps have always been fan favorites at conventions, bringing the cheeky wit and affable demeanors that made them so endearing as the Weasley twins to the stage time after time.  Their visit to MegaCon in Florida last June was no exception, and they threw out some exciting news while there, hinting at a potential upcoming project which may soon be a reality!
Nerds and Beyond reports that Oliver told the audience they had plans to meet with three production companies to pitch a television idea that would be based in the U.S. A little gentle prodding by the interviewer led Oliver to divulge a few specifics, including that one of the companies in the running was Spike TV. They couldn't comment on the timing of the project because it was still in the planning phase, and the meetings were likely intended to narrow the field and hammer out more details, but he did indicate the ball was rolling, so to speak.
The surprising revelation then shifted to the backburner of fans' thoughts as other news cycled to the forefront in recent months. That is–until yesterday!
Oliver posted this to Instagram with the caption "A new project coming soon. #TwinCities." Nerds and Beyond speculates this could be the very project the boys were working on last year! Nothing definitive has been released, of course, so their guess is as good as ours but, since it's too fantastic not to consider the possibilities, let's work through what we know.
The hashtag #twincities could simply be a tongue-in-cheek reference to the twins and their travels, or it could reveal their actual location, perhaps the site of shooting. The Minneapolis-St. Paul area is often referred to as the "Twin Cities," for example. And if the word play speaks to a real place, it could also double as the title of the project.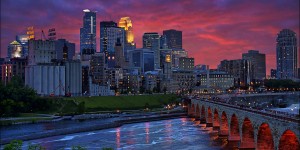 The post reveals nothing about who they're working with on the project. But, if this is the television concept moving forward, we know that Spike TV is based in New York and that James also mentioned going to Los Angeles for one of their meetings. Which production company that may have been, is hard to say, as there are many based in L.A.
As to what kind of show it would be, Nerds and Beyond points out the two possibilities: scripted or reality. James and Oliver gave no indication in their post or in the MegaCon Q&A which direction their project would take. But they did address their target audience. Oliver looked out at the crowd and said, "The target audience is–you guys." He could be referring to general convention-goers or, more specifically, to Harry Potter fans.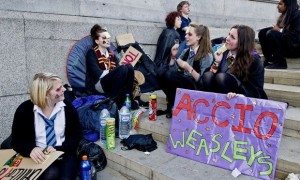 Whatever it turns out to be, we're beyond excited for them, but we're honestly hoping these are one and the same, because the prospect of a project that would appeal, in some special way, to us, leaves us almost too speechless to keep debating it. (Almost.)
Take a look at their original comments in the MegaCon video below–they come at the beginning of the segment–and let us know what you think about it. Are these related? Did you pick up on any clues we missed?!