Future 'Doctor Who' Christmas Specials Could Be Even More Special for Potter Fans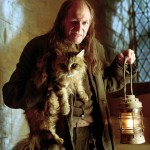 Apr 20, 2017
New information regarding the popular Doctor Who Christmas specials could mean big things for those who love both Harry Potter and Doctor Who. From David Bradley guest starring as the First Doctor in this year's upcoming special to a Harry Potter–Doctor Who mash-up that never came to pass, we're really hoping these are more than just rumors.
An anonymous source leaked information to The Mirror regarding the 2017 Christmas special. While this episode will show the end of Peter Capaldi as the 12th Doctor, it was also stated that the First Doctor will be making an appearance. The First Doctor was originally played by William Hartnell, but unfortunately Hartnell passed in 1975. Therefore, David Bradley, Argus Filch, who previously portrayed Hartnell in An Adventure in Space and Time, will fill in for the role. Bradley will help Capaldi save the planet Gallifrey as the 12th Doctor's last mission.
If the presence of popular faces from the Harry Potter films like David Bradley, David Tennant, and John Hurt along many others isn't enough to bring the two large franchises together, there was once a proposal for a fully Harry Potter themed Doctor Who Christmas special. Russell T Davies, who was the producer of Doctor Who until 2009, devised the plot of the themed episode back in 2008.
According to The Sun, the episode would feature J.K. Rowling catching a mysterious space bug that would bring all of her writing creations to life. Rowling would then have to team up with the Doctor to fight off her fictional villains, which most likely means we'd see her and the Doctor battling Voldemort and the Death Eaters. Davies originally asked Rowling to write an episode to try and top Kylie Minogue appearing as a guest star, but she declined. So then Davies thought:
"Reflecting we can't possibly get someone to star in next year's Christmas special who's as famous as Kylie, I thought, don't ask JK to write a Dr Who, ask her to be in a Dr Who!"
Unfortunately Tennant who was the Doctor at the time, didn't think this would be a good idea (I can't possibly imagine why?!) and so Davies didn't go through with it in order to keep Tennant happy. Steven Moffat, the shows current executive producer confirmed the existence of the episode saying:
"It exists on a hard drive somewhere — but you'll have to ask Russell because that was in his time."
Although the episode has not yet been used, it still exists and there is still hope. An unidentified source stated:
"Who knows if it will ever see the light of day? But the idea alone is amazing in itself. Combining two massive franchises like Harry Potter and Doctor Who would be incredible."
We will just have to wait and see if we'll ever get to witness this idea becoming a reality, but in the meanwhile we have this year's Christmas special featuring David Bradley to look forward to!