Emma's interview with Jessica Chastain, Potter Reunion and Beauty and the Beast Sequel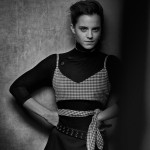 May 01, 2017
As the queen of feminist activism, books, and ambition, Emma Watson is becoming a force to be reckoned with. Even though most of us know her as the brainy witch Hermione Granger, she's taking strides in breaking from that and becoming a fully rounded actress in the cinemas this year. First as Belle in Beauty and the Beast that premiered with wild success last month, and this week in The Circle which opened Friday, where she stars opposite Tom Hanks in the thriller that's based on the book by David Eggers.
Personally, I love watching Emma go from the magical heroine of the Potter books to films that are chilling, realistic and suspenseful. Granted, I haven't seen The Circle, but it already seems like it'll be all those things and more.
Anyways, film legend Jessica Chastain (The Help, The Martian, Interstellar) interviewed Emma on trying to be herself, but also a role model for girls everywhere, and how it's a struggle that's worth it.
Normally, I always say that the interviewer 'sits down' with the actor for an interview; but in this case I'd be wrong – because Emma's in the bath:
JESSICA CHASTAIN: Hi, honey. Where are you right now?

EMMA WATSON: I'm thrilled that you asked, because I didn't want things to get weird. I'm in the bath. In Paris. I didn't want you to hear swishing water and be like, "Uh, what are you doing?" I'm very relaxed. Where are you?

CHASTAIN: I am in a hotel room. There are bags of hair extensions and makeup and clothes everywhere.

WATSON: As long as there's a clear line across the floor so that you can actually get into bed at night, you're good.
Can we just sit for a moment and appreciate how great these two women are? And how absolutely normal (because it is) sounds?  Okay, let's move on.
Jessica asks her about her interests in fashion – her eco friendly Press Tour Instagram account wowed us all, check it out by clicking here.
"Fashion is something that I love, and I find it to be so expressive and creative, and it's obviously a way into my characters, so I'm always deeply engaged with it. What I find difficult about photo shoots is the line between playing a character—you're being asked by the photographer to take on a role like you would in a movie—and being a fancier version of yourself. It's about finding that line between being spontaneous and open to direction, but also trying to explain to photographers that the "me" is often taken out of context because it has all of this other stuff attached to it."
Being a woman comes with its own set of ridiculous, and often sexist expectations; so it only makes sense that Jessica would ask Emma if she thought she's held to different standards because of having to be the person she's always been, and how being Hermione has impacted her acting career:
"When I step into a character, people have to be able to suspend their disbelief; they have to be able to divorce me from [Hermione] that girl. And not having everyone know every single intimate detail of my entire life is part of me trying to protect my ability to do my job well. Generally, I've been fortunate, like when Sofia Coppola offered me a role in The Bling Ring, which was so wonderfully different. Artists have given me a lot of freedom—have been able to imagine me in other ways—but it's something I am aware of, for sure."
Part of watching actors grow up in front of our eyes means that they're bound to make mistakes; whether we see them on screen or in the paparazzi or not.We tend to be shown the 'uglier' side of celebrities; unflattering makeup, comfy clothing on a run to the grocery store or at dinner with a significant other, but with Emma, we don't have those. She's intensely private, but for a good reason. Jessica asks her if she's felt free to make those types of mistakes, in order to learn about acting and life, and she responds by sharing her experiences with studying and auditioning for the role of Hermione:
"I know that I'm under a different microscope, a certain level of scrutiny, which I find really hard at times. And sometimes the fear of doing things is overwhelming. I get incredibly overwhelmed, and sometimes feel hemmed in by that, afraid of that. But I know that if I live in that fear, then my life as an artist, as a human being, really, is over. Ultimately, it will silence me, and it will silence what is in me—which I have yet to explore and uncover. People couldn't believe it when, after Harry Potter, I was like, "I'm going to school." Essentially, I took five years out to study, doing only a few smaller projects, and, to a lot of people, it seemed like I was passing up a lot of opportunity. I received a lot of angry phone calls. But I needed the space to go and explore who I was, without being under the microscope. And I did a play at Brown. I did Three Sisters. I loved it. I loved working with other people my age who were figuring it out. As you say, I loved being able to make mistakes. To be able to step away was pretty key. When I was auditioning to play Hermione, I had this fearlessness, because I wasn't aware of anyone else. I just knew I loved that girl and I loved that role and I loved that world, and I went for it."
She goes on to talk about how her mistakes have made her stronger, and that as irritating as it is it's essential to become the person that you're meant to be. Emma goes on to talk about this organisation that she works with called CAMFED; which provides funding for families that wouldn't normally send girls to school and also helps them once they've finished it as well.Read the full interview and check out the full gallery over at Interview Magazine
Read the full interview and check out the full gallery over at Interview Magazine here!
In more Emma news, she reunited with Bonnie Wright, who played Ginny Weasley at the premiere for The Circle. 
Emma Watson e Bonnie Wright no tapete vermelho do Tribeca Film Festival #TheCircle ? pic.twitter.com/ddOEnGmr0Y

— Emma Watson Brasil (@EmWatsonB) April 27, 2017
Emma also told Access Hollywood  that she'd really love to do a sequel to Beauty and the Beast saying that, "I always thought that Bellel would become a teacher  and she would run the library in the castle and open it up to the village."  Watch more with her in this clip: