Latest on The Girl Who Lived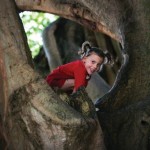 May 16, 2017
Juniper French melts the hearts of Potter fans with each new step in her miraculous journey. Six years after conquering all odds and surviving birth at 23 weeks-old, Juniper has continued to spread joy with her Potter-related escapades.
Back in January, Juniper attended A Celebration of Harry Potter at Universal Orlando with her friends and family. The young fan was granted a meeting with Tom Felton (Draco Malfoy), and Felton was undeniably happy to meet her.
Felton: "My name's Tom! I play Draco Malfoy. Do you wanna hear a secret? I'm nice in real life. It's only Draco that's mean. Tom's a really nice person, I promise."
Almost four months after this touching encounter, and on the anniversary of her extraordinary entrance to the world, Juniper was blessed with a ticket to see Harry Potter and the Cursed Child in the West End. After being assured by J.K. Rowling herself that the play was not too scary, she and her parents made their way to the Palace Theatre to reunite with Harry as he experienced the challenges of being a famous parent.
.@jk_rowling I'll be thinking about the cursed child for a long time. Juniper is asleep. I'll never forget the glow of the stage lights on her face. pic.twitter.com/PTmCvDiCFP

— Kelley Benham French (@KelleyBFrench) May 12, 2017
Updates from The Girl Who Lived continue to inspire members of the Potter community, and she will continue to warm hearts as she grows up among the adoration of her parent's readers. Read Juniper's story here, and buy the highly praised story of her unusual birth (written by her parents) here.