Feminism, Aliens and Katherine Waterston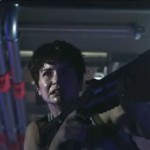 May 19, 2017
Alien: Covenant premiered on May 12th, and it's already scaring the beejezus out of people; specifically its main star Katherine Waterston.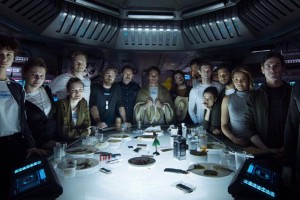 In an interview with hollywood.com, Waterston said she was nauseous just watching the trailer. That didn't stop her from absolutely adoring making the film; specifically with the stuntwork. Most actors have stunt doubles, and so did she, but she resisted, saying,
"Oh my gosh. I loved doing stunts. Ridley had to tear me away," she laughed. "Letting someone else (like a stuntwoman) tell your character's story seemed insane to me. I'm also a middle child so I'm wired to feel as though I'm always missing out."
Hollywood.com posted a very cool behind the scenes video, talking to all of the stars of Alien: Covenant, and Waterston compares it to the original film.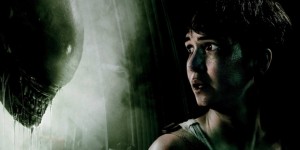 In the tradition of Ridley Scott, Waterston plays the third female lead; following Sigourney Weaver as Ripley in the original, and Noomi Rapace as the doomed Prometheus's archaologist Elizabeth Shaw.  In an interview with The Guardian , they compare Waterston's Daniel to Sigourney's Ripley saying,
"Both are rational women transformed by circumstance into gun-toting warriors. Both are shown at some point in singlets, or clomping around in magnetic boots, and each has a problematic relationship with a synthetic colleague. The only shortfall comes in the area of the catchphrase, where Daniels's multiple efforts (including "I got you, you son-of-a-b***h" and "Let's kill this f****r!") are no match for Ripley's emphatic: "Get away from her, you b***h!'
The interview with The Guardian goes on to chat with her about everything from sexism in the film industry to talking about her experience filming Wes Anderson's Inherent Vice, and body image.  You can read the entirety of that interview here.
But there isn't a way for Waterston's Daniels to exist without Ripley. Digital Spy  interviewed Waterston on how Ripley influenced her and the rest of the sci-fi/horror genre. Ripley is one of the strongest female heroines in film history – and it's really affected how Waterston played Daniels.
"It's not just that she's tough in the movie, but she emerges from the crew," she says. "I saw this in Daniels too – she's just a regular person. She's not a superhero. I think it maybe had more of an impact on young women than if she had been in a cape and tights or something, because I think people saw themselves in her."
Daniels and Ripley are very much women who influence writers to create strong, admirable female heroines.
At the end of the interview, Waterston talked briefly about Fantastic Beasts and Where to Find Them 2, saying that she hopes to meet the young Albus Dumbledore, played by Jude Law.
"I haven't read the script, so I don't know if we will encounter each other, but I was thrilled when I heard that he got the job," she said.
Alien: Covenant opens today in US Theaters, and Fantastic Beasts 2 premieres in 2018.