Nighttime Lights at Hogwarts Castle to Launch June 23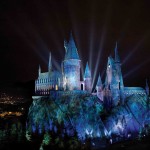 May 21, 2017
Universal Studios Hollywood has designed an immersive light show using 3D projection mapping that will envelop Hogwarts castle in the Wizarding World of Harry Potter this summer. Guests at the park will be drawn in by a new arrangement of themes from the Potter films composed by John Williams himself, piped in through a 27.5 surround-sound system.
The park's senior manager of audio and visual production Stacey Quinealty comments,
"It's going to give them a sense that they are wrapped by the orchestra, not just watching something at a distance… You're going to feel all of this live motion."
The LA Times reports that the light show will play multiple times a night, and will be experienced differently depending on the viewer's location in the park.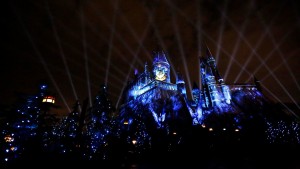 Quinealty continues,
"We really wanted the guests to have that bone-chilling moment and go, 'Wow, this is something I've never experienced before… It's really spectacular.'"
The nighttime show will launch on June 23, and fans are hoping that a successful start will lead to the show opening in other Universal parks, making the experience accessible to a wider audience.