'Cursed Child': A Changing of the Guard at the Palace Theatre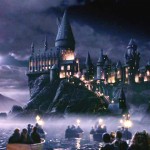 May 22, 2017
In the words of the famed Roman philosopher, statesman, and dramatist Seneca, "Every new beginning comes from some other beginning's end."
So we must bid a fond farewell to the original cast of the ground-breaking and award winning play Harry Potter and the Cursed Child. Such good-byes are bittersweet, having reveled in the wizardry of their stellar talent since July 2016. But this end of an era ushers in a new cast set on keeping the magic alive, and we honor this changing of the guard with the reflections of those who lived–and will live–it out for us on stage.
As the Cursed Child stars entered the last week of performances, the reality began to sink in, and Sam Clemmett, who played Albus Severus Potter, son of the iconic Harry Potter, was one of the first to take his thoughts to twitter.
 Final week…. wowsa. Here goes! @HPPlayLDN
— Sam Clemmett (@sam_clemmett) May 17, 2017
Followed by others…
It's the Harry Potter Original Cast countdown! After 15 months on 1 of the best gigs ever … 1. Week. Left. *gulp* #CursedChild@HPPlayLDN

— Jack Bennett (@JackGeoffActor) May 17, 2017
And then, as they prepared to perform Part One for the last time Saturday, the floodgates opened. The cast and crew seemed to feel as Dumbledore did, treating social media as a Pensieve with which to record their memories:
"I sometimes find, and I am sure you know the feeling, that I simply have too many thoughts and memories crammed into my mind…. At these times… I use the Pensieve. One simply siphons the excess thoughts from one's mind, pours them into the basin, and examines them at one's leisure."
Noma Dumezweni, who gave an Olivier-winning portrayal of Hermione Granger, shared her poignant thoughts May 20th:
Beginnings, End. Ending's Strange. Change.. is Strange, GIFTS! ??Gifts gained, carved deep. Ache, always, to Let go. @HPPlayLDN Changed my ?

— MissNoma (@MissDumezweni) May 20, 2017
Which prompted an exchange with playwright Jack Thorne:
@jackthorne @HPPlayLDN DENIAL this end Jack. Just doing a show 2moro my love. Guarding up for MOM Pt2… ? Come join us for a downward dog…? ?

— MissNoma (@MissDumezweni) May 20, 2017
Sam Clemmett added:
@HPPlayLDN has been the gift that keeps on giving. What a wonderful year. Let's go out with a bang. I will miss you Albus.

— Sam Clemmett (@sam_clemmett) May 20, 2017
Associate director Des Kennedy shared a photo of the cast and crew marking the occasion as producer Sonia Friedman gave a speech flanked by director John Tiffany and J.K. Rowling herself.
We made it! #alwayspic.twitter.com/THLjegoB8Q — Des Kennedy (@ThatDesKennedy) May 20, 2017
Sunday saw them preparing for Part Two and the last show of the run.
On a very early train to see a very special group of people in their last show. I may have puffy eyes today…? #trainsandsewingmachines pic.twitter.com/DYAIJEocGQ — Des Kennedy (@ThatDesKennedy) May 21, 2017 
 Final show day. Bloody hell. It's been an incredible year, thanks so much to everyone who came to see us! #cursedchild @HPPlayLDN 
— Jack Bennett (@JackGeoffActor) May 21, 2017
Cherelle Skeete, who played Rose Granger-Weasley, shared:
Last day for these #grangerweasleys #castechange #cursedchild ?#rosegrangerweasley #ronweasley… https://t.co/HM21NbfL2P — Cherrelle (@CherrelleSkeete) May 21, 2017
Unfortunately, Anthony Boyle, who also gave an Olivier-winning performance as Scorpius Malfoy, son of Draco, was unable to take the stage.
Gutted that I am ill and unable to perform today. Thank you so much for all of your support. Wishing James and the cast all the best today x — Anthony boyle (@antoboyle) May 21, 2017
Illness did not stop him from offering his own farewells, however.
Since when he asked, Are the first line and last line of any poem Where the poem begins and ends? Good bye @HPPlayLDN , Good bye scorpius. — Anthony boyle (@antoboyle) May 21, 2017
 Then, after the curtain fell on the cast for the last time, Des Kennedy tweeted a photo of the empty theater.
All was well. pic.twitter.com/4smk3MeGbN — Des Kennedy (@ThatDesKennedy) May 21, 2017
Rowling's agent, Neil Blair, also joined the celebration.
Amazing night with a set of very special people -thank you x @jk_rowling@MissDumezweni@SFP_London@jackthorne@johntiffany@DickLeFenwickhttps://t.co/SFOAwKrgHP — Neil Blair (@NeilBlairTBP) May 21, 2017
Where they enjoyed an absolutely amazing cake!
Celebrating Year One at the Palace Theatre with this incredible Palace Theatre cake! #KeepTheSecretspic.twitter.com/Nx30uDbMDj — Harry Potter Play (@HPPlayLDN) May 21, 2017
To which Jack Thorne replied:
@NeilBlairTBP@jk_rowling@MissDumezweni@SFP_London@johntiffany@DickLeFenwick And then some plonker sliced that beautiful cake right down the middle. Thanks Neil. X — Jack Thorne (@jackthorne) May 22, 2017
Poppy Miller, who played Ginny Weasley, reflected:
@HPPlayLDN@SFP_London My beloved co-cast, every department at the Palace theatre, all the creatives, the new cast, the incredible fans???? — Poppy Miller (@Popski_emski) May 22, 2017
Paul Thornley, who portrayed our beloved Ron, shared:
Thankyou all of you for your letters/tweets/sweets etc re @HPPlayLDN over the last year. The very best job in the world. Loved it ??? — Paul Thornley (@paulfthornley) May 22, 2017
And Rowling replied:
You were incredible, Paul. Thank you x https://t.co/QUc5Onv0TR — J.K. Rowling (@jk_rowling) May 22, 2017
And, after a day to further process his thoughts, Sam Clemmett tweeted this morning:
Yesterday was a very special day. I'm going to miss my @HPPlayLDN family so so much. Onto new adventures. My worlds changed. Now, REST. — Sam Clemmett (@sam_clemmett) May 22, 2017
James Howard, who returns with the incoming cast, said good-bye to friends but not to the Cursed Child story:
What. A. Year! Too many wonderful memories to share, too many people to say a sad goodbye to. Memories to last a lifetime #CursedChildpic.twitter.com/OM1q38gs88 — James Howard (@JHowardActor) May 21, 2017
When the new cast takes the stage for the first time May 24th, Howard will fill the shoes of Draco Malfoy.
Welcome to Year Two… ? https://t.co/77HONuIRo2 — James Howard (@JHowardActor) May 22, 2017
The Malfoys – Draco (@JHowardActor) & Scorpius (@BlenkinSamuel). The new #CursedChild cast first perform on 24 May at the Palace Theatre. pic.twitter.com/PX32hAXbal — Harry Potter Play (@HPPlayLDN) May 22, 2017
As seen in the cast photo, Scorpius Malfoy will now be played by Samuel Blenkin.
Crikey… I cannot wait to begin this week. THIS WEEK? https://t.co/bGuXb7SzIj — Samuel Blenkin (@BlenkinSamuel) May 22, 2017
Jamie Glover takes over as Harry Potter, Emma Merrells as Ginny Weasley, and Theo Ancient as Albus, who's ecstatic about this magical opportunity .
The Potters – Harry (Jamie Glover), Ginny (@EmmaMerrells) & Albus (@Theo_Ancient). The new #CursedChild cast first perform on 24 May. pic.twitter.com/9PY9LsP1LB — Harry Potter Play (@HPPlayLDN) May 22, 2017
Wow, what an amazing response already! Can't tell you how excited I am to play Albus this week! Huge congratulations to all the first years! — Theo Ancient (@Theo_Ancient) May 22, 2017
Broadway World shared a photo of the new Granger-Weasley family, in which Thomas Aldridge plays Ron and Raki Ayola plays Hermione.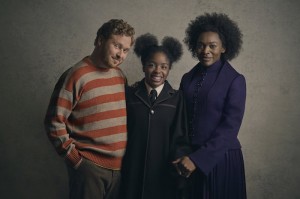 Helen Aluko, who now plays Rose, was the understudy during the previous run.
Welcome back @Helen_Aluko as Rose ? pic.twitter.com/07IcIFSGni — Cursed Child As Dogs (@CursedDogs) May 22, 2017
And view the Harry Potter Play exclusive behind-the-scenes look at the character photo shoot!
Take a look behind-the-scenes of our character photo shoot with the new #CursedChild cast in this exclusive video. pic.twitter.com/EDsJWy7emV — Harry Potter Play (@HPPlayLDN) May 22, 2017
So join us in giving a warm farewell to the old guard, and let's welcome in this round of "first years," wishing them all the best as they continue to bring the magic of the wizarding world to life!