'Here We Go Again' With Julie Walters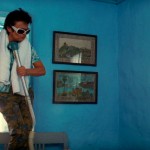 May 24, 2017
In 2008, Julie Walters starred as Rosie in the hit musical Mamma Mia!, a tale of long-time friends reuniting for a weekend wedding in the Mediterranean–with a few surprises.
Rosie joined Tanya (Christina Baranski) and mother-of-the-bride Donna (Meryl Streep) at her Greek hotel where they reminisce about the "old days" and talk about daughter Sophie's upcoming nuptials.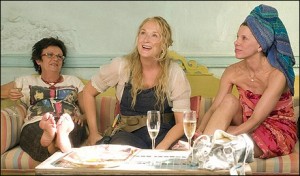 Hijinks ensue when the trio discovers that Sophie (Amanda Seyfried) invited three men from Donna's past in hopes of discovering which is her father. The ladies then spend a good bit of time avoiding the men and singing some hilarious, and sometimes angst-ridden, musical numbers adapted solely from the Abba catalogue.
They eventually meet up with Donna's former suitors, Harry (Colin Firth), Sam (Pierce Brosnan), and Bill (Stellan Skarsgard), and the men join in the festivities as the women relive iconic moments from their days as 'Donna and the Dynamos.'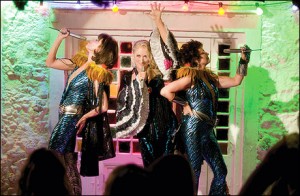 Donna and Sam finally rekindle the spark between them, and the film ends with a wedding–though not the one audiences expected! It was such a fun-filled ride, we're thrilled to report the Universal Studios Entertainment's announcement of an upcoming sequel titled Mamma Mia: Here We Go Again!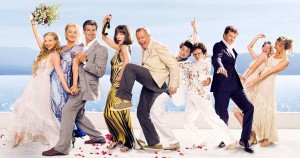 According to Movie Web, the release date is set for July 20, 2018, just days past the 10-year anniversary of the first entry's theatrical opening. The original cast members, including Walters, are all expected to return for the film, which will be scripted and directed by Ol Parker.
No plot details have been released, but Movie Web speculates that a prequel storyline was considered at one time. Given that the sequel will film a decade after the first, however, it may be less realistic than it might once have been for the actors and actresses to portray younger versions of their characters. Still, talented hair and make-up artists can achieve magical results when the plot calls for it, so we eagerly await news on that score.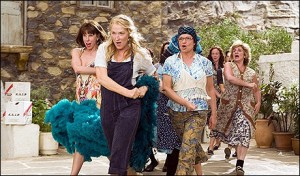 There is also no word on what songs might be featured in the follow-up. But since Walters, Streep, and Baranski rocked such Abba pop anthems as "Winner Takes it All," "Take a Chance on Me," and "Dancing Queen" the first go round, they'll undoubtedly do the same with whatever tunes they're given.
Here we go again, indeed–we can't wait to see Harry Potter's Molly Weasley back in all her disco glory!