Escape Rooms Styled After the Magic of 'Harry Potter' Becoming the Latest Trend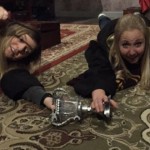 May 27, 2017
With the latest announcement of yet another upcoming loosely Harry Potter themed escape room we're starting to notice a new trend developing, and let's just say we're not complaining. Although these rooms are not directly tied to Warner Bros. or J.K. Rowling's Wizarding World, they are definitely a fun experience for fans to pretend they're wizards too and experience some of the magic that Harry did in his adventures.
Escape Room Novi in Novi, Michigan just announced it will be opening 'School of Magic' in August. While they are currently working out the details with Warner Bros. they are determined to make this a reality for fans. These businesses all walk a thin line trying to please fans by getting details as accurate to the books as possible without actually stepping on Warner Bros. and J.K. Rowling's toes by using names, places, and characters directly from the stories. While we're waiting for more details from Escape Room Novi on their upcoming room, we looked into the other Potter themed escape rooms that have been opening up over the last few years.
For the rooms that have opened already, one of the most popular story lines they follow is escaping from an "Azkaban" styled prison and we can understand why. Even though there may not be dementors guarding the cells, there is sure to be many other riddles and puzzles making it a challenge for participants to escape from the depths of a wizard prison. Room Escape in Saskatoon, Saskatchewan had a room called 'Azkaban Prison' open for awhile, but the business is unfortunately announced on the website as being temporarily closed due to space restrictions. If you didn't get to experience this room while it was around you'll just have to hope that the business reopens soon and when it does that it continues to feature it's "Azkaban" room.
In the meanwhile however fans can still partake in a similar escape room experience at Project Escape in Conshohocken, Pennsylvania in their room, also vaguely themed around the eerie prison, 'The Wizard's Secret'. The room has a one hour time limit and not only challenges you to escape from your cell, but also to face even tougher magical obstacles, including spells and potions, once you're out in the wizarding world.
Oshawa Escape Rooms in Ontario lets you venture into an entirely different aspect of the wizarding world, this time focusing on a scenario set to resemble an adventure within Hogwarts itself. The room is titled 'Wizard School Escape' and we can already see the similarities to Harry Potter just by reading the description. According to the website, participants have been striped of their magical powers and will have to board a train to the wizarding school, sneak past the magical security enchantments and the ruthless caretaker and find a way to restore their powers, all within the time constraint of one hour. This room poses it's own unique challenges and those played the Harry Potter video games should recall that evading a caretaker based on Filch will be no easy task (I swear those parts still give me nightmares).
Oshawa Escape Rooms also has another room with a very Potter-esque plot coming soon called 'Privet Drive.' As you may have guessed this one will task participants with rescuing a young wizard who is being held captive inside his bedroom by his conniving guardians who are trying to stop him from attending a wizarding school. This will also be a one hour challenge, which should be just enough time to bewitch your Ford Anglia to fly, but don't forget to add on the invisibility booster so you're not seen by the muggles! There is no information as to when this new room will be available for bookings yet.
If you want to prove your worth as a wizard you may want to visit Trapped- A Buffalo Escape Room Experience in Buffalo, New York. In 'The Wizard's Keep' room you have finally been accepted into the School of Wizardry, but first you must prove yourself by completing a series of puzzles and tests. This certainly sounds a lot more challenging than simply sitting on a stool with a hat on your head.
San Diego, California's Wizard School Room, has more of a vaguely magical story line, but still appeals to Potter fans with it's plot description featuring a mysterious castle in which participants must enter and find a series of four powerful symbols to discover hidden treasures and then find their way out without getting lost along the way.
While they may not dive directly into J.K. Rowling's Wizarding World, these rooms are all designed to put fans in a situation that resembles the mystery and adventure of Harry Potter and allow us to face similar challenges and dangers of magic first-hand alongside our closest friends. We can only hope that the popularity of these rooms will encourage more escape rooms around the world to open similarly magic and wizard themed rooms so they will be more easily accessible to fans from all over! To experience the fun of these escape rooms for yourself be sure to visit their websites and don't forget to check your local escape rooms to see if they also feature a wizard themed room (We're sure there's a few out there that we've missed!).
Featured Image from Liz Mantel.