Wizarding World Cauldron Cakes Undergo Magical Transformation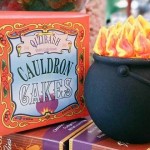 Jun 12, 2017
Aside from the overall overwhelming excitement experienced from actually walking through the Hogsmeade village and seeing the Hogwarts castle standing proudly on the hill ahead of you, one of the main things that makes a trip to the Wizarding World of Harry Potter feel so magical and authentic is the detail that goes in to everything from the window displays to the food.
The traditional British fare served in the restaurants, the butterbeer and pumpkin juice, and the array of delicious candy and treats are all surprisingly accurate to how we envisioned them as we read the books, however the creative minds behind these glorious creations never stop working and there is always room for improvement. One of our favorite park treats, the Cauldron Cake recently underwent a serious makeover and we can't wait to try it!
The new version of the magical snack is a chocolate cake topped with vibrant yellow-orange buttercream icing flames and comes in a miniature reusable plastic cauldron to take home as a souvenir (or to reuse to make your own cauldron cakes at home!) packaged into a colorful souvenir box. According to the Orlando Informer the new cakes are $9.95 and available at Honeydukes in Hogsmeade and Sugarplum's Sweet Shop in Diagon Alley.
These new cakes seem to be a hit with most park guests so far, but there are a few fans who are disappointed by the treat's transformation. The old cakes, for those who never had the opportunity to enjoy them, were a brownie based treat filled with chocolate mousse, dipped in chocolate, and topped with chocolate icing and a chocolate handle. They were significantly more reasonably priced than the new cakes at only $3.95.
While the old ones were a classic to the park, the new ones more closely resemble an actual cauldron and the colorful flames add a nice visual pop. Plus who doesn't enjoy a snack that comes with a take home souvenir. There's definitely space in our collection for these little cauldrons right next to our chocolate frog cards and boxes! The only downside to the change is the increase in price that came along with it, but that probably won't deter most fans from getting their hands on these new cakes.
New #HoneyDukes Cauldron Cake w/Reusable Silicone Cauldron and Recipie on Box H/T @AnnMarieMarlowe #HarryPotter @UniversalORL pic.twitter.com/URdEQprihR

— Hedgehog's Corner (@hedgehogscorner) June 8, 2017
So hurry to Wizarding World to try the new Cauldron Cakes today! If you've had a chance to try the new cakes let us know what you think in the comments! Or let us know below which version you preferred, the new or the old!