J.K. Rowling and Julie Walters Honoured By The Queen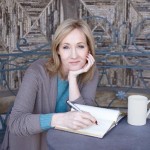 Jun 19, 2017
As part of The Queen's Birthday Honours, both J.K. Rowling and Julie Walters were recognised for their contributions to public service and appointed honorary titles, with Rowling receiving one of the highest awards.
J.K. Rowling was appointed a Companion of Honour, for major contributions to the arts. Nine new members were appointed to mark the centenary of the creation of the Order of the Companion of Honour award by George V. She is one of the youngest people to have received the honour.
In a recent update on her work, Rowling tweeted a photo of progress on the Cormoran Strike TV Series, with a still of The Cuckoo's Calling:
— J.K. Rowling (@jk_rowling) June 13, 2017
Julie Walters was also recognised with a Damehood, and is now Dame Julie Walters – about time!
The Honours List celebrated the fact that 2017's awards were becoming more representative, with a 50% split of men and women receiving awards, and 10% of successful candidates coming from a BAME background.
Read more about the awards here, and join us in congratulating J.K. Rowling and Dame Julie Walters on their well-deserved awards!