Pottermore Launches Wizarding World Book Club & Free eBooks!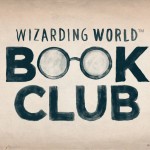 Jun 22, 2017
On June 19th, Pottermore officially launched its platform for a global reread of the Harry Potter books, the Twitter-based Wizarding World Book Club. New and old fans alike are encouraged to read the series and participate in guided themes and discussions along with Pottermore's schedule,  beginning with Harry Potter and the Philosopher's Stone on June 23rd at 4pm BST. Each week will discuss a different theme (the first week being an opportunity to ask questions about the club), see more here.
#wwbookclub kicked off yesterday, but what happens next? Well, it's time to grab your copy of Philosopher's Stone and start reading… pic.twitter.com/OM1NMPey2x

— WW Book Club (@wwbookclub) June 20, 2017
Fans will join in with the discussion on Twitter by using @wwbookclub and #wwbookclub within your tweets  (search wwbookclub on Twitter and the discussions should appear!). Discussions will take place every Friday at 4pm BST, starting on June 23rd, and once Philosopher's Stone is over the club will move onto subsequent Potter books.
Your only limitation is the 140 character limit, but get creative! There's no stopping you from linking to blog posts or using TweetLonger if you have something more in-depth to say.
Joined the Wizarding World Book Club? Join the conversation at @wwbookclub, and prepare to rethink everything you know about Harry Potter .. pic.twitter.com/kTkPFGzVgT

— Pottermore (@pottermore) June 19, 2017
What's more, you'll be able to get the Philosopher's Stone eBook COMPLETELY FREE over a two week period to mark the 20th anniversary of the book from libraries, ensuring 'unfettered digital access' to the book and its celebrations. Library distribution apps OverDrive, BorrowBox from Bolinda and Askews & Holts will host an unlimited number of loans of the book from June 26th until July 9th.
Pottermore is also kindly equipping libraries with resources (posters, flyers, social media tools and competition ideas) to help with publicising the promotion – local libraries are important, so head on over and make use of the free eBooks, even if you already have them!
We're so excited to get involved with the discussion and celebrate the 20th anniversary of Philosopher's Stone that we'll be releasing three chapter-by-chapter analyses of the book, including favourite quotes and moments, funniest moments, fan art and critical summaries. We'd love for you to get involved, so watch out for the articles in the lead up to the 26th, and be sure to join the Wizarding World Book Club on Pottermore here.