UPDATE: The British Library Previews 'Harry Potter: A History of Magic' Exhibition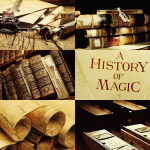 Jun 22, 2017
The British Library released a poster for its upcoming Harry Potter: A History of Magic exhibition today. It features Jim Kay's memorable take on the mythical phoenix as included in Harry Potter and the Chamber of Secrets: Illustrated Edition.
UPDATE AT BOTTOM OF ARTICLE (07/19/17): New Information about History of Magic companion books
The beautiful artwork also hints at the contributions of folk writings and mysticism to magic's enduring legend, including ancient text in the background of the image, giving fans a glimpse of the wide-ranging scope of this exciting new exhibition. (We need Hermione Granger to translate–she didn't go through all that time-traveling trouble to take both Divination and Runes for nothing!)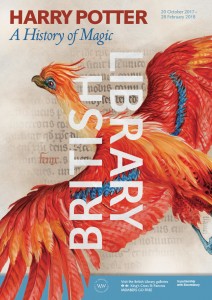 © J.K. Rowling/Pottermore Ltd and The British Library in partnership with Bloomsbury
According to Pottermore, the exhibition will open Friday, Oct. 20 and run through Feb. 28, 2018. It will feature over 100 incredible artifacts related to the wizarding world in a celebration of magic that coincides with this year's 20th anniversary of the publication of Harry Potter and the Philosopher's Stone. Notable items on display include special selections from both Bloomsbury and J.K. Rowling, in addition to other art and drawings.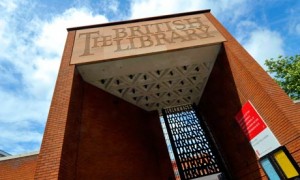 Pottermore also announced the publication of two companion books, available the day of the opening, which detail the artifact selection process and give background information on the exhibition's displays.
A more comprehensive adult edition titled Harry Potter: A History of Magic will be printed by Bloomsbury and available in eBook format through Pottermore. The version for younger readers and fans, titled Harry Potter: A Journey Through a History of Magic, will also be available in both hard copy and eBook editions.
Hypable specifies that the book will feature "unseen sketches and manuscript pages from J.K. Rowling, magical illustrations from Jim Kay and weird, wonderful and inspiring artefacts that have been magically released from the archives at the British Library."
All in all, for those unable to attend, these books will provide an inside look capturing the experience so fans won't have to miss out on this opportunity to revisit the history of the magical world!
Read the official Pottermore announcement for more details and information on how to purchase tickets to this one-of-a-kind exhibition. Also, take note, fans can pre-order the books online through Bloomsbury now!
---
**UPDATE (07/19/17): New Information about History of Magic companion books**
In a recent press release, more information has been provided on the two companion books delving into the History of Magic exhibition. Whilst previously being described by Pottermore as an 'adult' and 'family' version, Harry Potter: A History of Magic and Harry Potter: A Journey Through A History of Magic will also differ in their approach to merging a history of magic in J.K. Rowling's wizarding world and the actual history of magic in the muggle world.
Business Insider reported on Bloomsbury's trading statement, which said the following: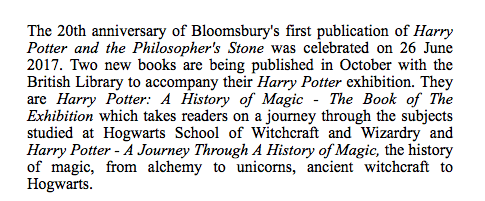 A longer description of Harry Potter: A History of Magic – The Book of The Exhibition (coming October 20th) is as follows:
"Each chapter showcases a treasure trove of artefacts from the British Library and other collections around the world, beside exclusive manuscripts, sketches and illustrations from the Harry Potter archive. There's also a specially commissioned essay for each subject area by an expert, writer or cultural commentator, inspired by the contents of the exhibition – absorbing, insightful and unexpected contributions from Steve Backshall, the Reverend Richard Coles, Owen Davies, Julia Eccleshare, Roger Highfield, Steve Kloves, Lucy Mangan, Anna Pavord and Tim Peake, who offer a personal perspective on their magical theme.
Readers will be able to pore over ancient spell books, amazing illuminated scrolls that reveal the secret of the Elixir of Life, vials of dragon's blood, mandrake roots, painted centaurs and a genuine witch's broomstick, in a book that shows J.K. Rowling's magical inventions alongside their cultural and historical forebears. "
The latter –  Harry Potter – A Journey Through A History of Magic – sounds equally as exciting:
"This spellbinding book takes readers on a journey through the Hogwarts curriculum, including Herbology, Defence Against the Dark Arts, Astronomy, Divination and more. Discover the truth behind making the Philosopher's Stone, create your very own potion and uncover the secret of invisible ink. Learn all about the history of mandrake roots and dragons, discover what witches really used their brooms for, pore over incredible images of actual mermaids and read about real-life potions, astronomers and alchemists."
Follow the above links to preorder each of the books, and don't forget to book your tickets to the exhibition itself in London – it's selling fast! Click here to go to the official website.