Hail to Our Hero Dobby on His Birthday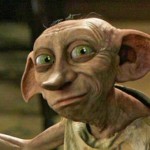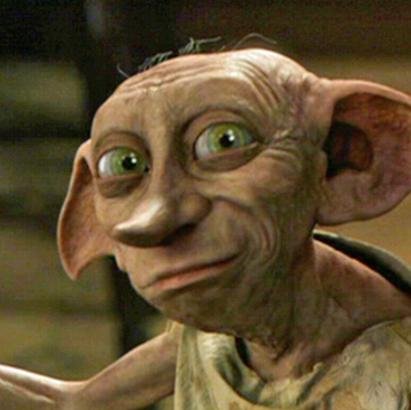 Jun 27, 2017
Today we celebrate the birthday of beloved house elf Dobby, who was not only one of the most significant magical creatures to appear in the pages and on-screen in the world of Harry Potter, he may just be the most cherished hero of the series. What is it about those peeping orbs and cavernous ears that draw us to this unlikely catalyst? Is it his gentle demeanor; his squeaky inflection, performed so endearingly by talented English actor Toby Jones; his fierce loyalty to our protagonist; his overwhelmingly courageous deeds; or his dramatic and untimely death? Along with being the truest of friends, Dobby's enchanting combination of all of these qualities warms our hearts everytime.
As part of the 20th Anniversary of the release of Harry Potter and the Philosopher's Stone, Bloomsbury Books posted a survey on Twitter asking followers to vote on their favorite 20 Harry Potter characters. Guess what Lilliputian vanquisher of dark magic beat out Harry himself at number five?
So here it is… YOUR top 20 Harry Potter characters #HarryPotter20

— Bloomsbury UK (@BloomsburyBooks) June 26, 2017
5. Dobby
4. Sirius Black
3. Luna Lovegood
2. Severus Snape
1. HERMIONE GRANGER#HarryPotter20

— Bloomsbury UK (@BloomsburyBooks) June 26, 2017
To this day, even his despised Death Eater of a master, Lucius Malfoy, can't part with the little guy:

Fans had a chance to get up close and personal earlier this year at Warner Bros. Studio London as covered here by Leaky. Their limited-engagement exhibit Directing Dobby, presented a behind-the-scenes look at the multitude of special effects that brought Dobby to life in the films. The studio had this to say about the exhibit:
"You will be able to take part in an interactive motion capture experience at the Studio Tour. Consisting of three screens, the experience shows Dobby at different stages of motion capture, from an initial wireframe to the fully-rendered Dobby as we know and love him. Standing in front of the display, visitors will see three versions of Dobby reflecting their movements in real-time, demonstrating the process used by filmmakers when bringing CGI characters to life on screen."
Let us know about your experience on the tour if you were lucky enough to visit during Directing Dobby!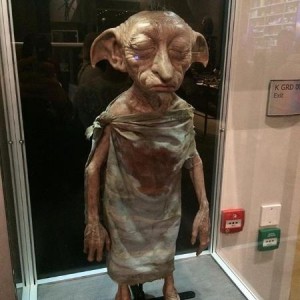 Every so often, Dobby proved to frustrate Harry and friends, but he was ultimately the most devoted of confidants and was certainly the reason the trio's story didn't culminate at Malfoy Manor. There is a wonderfully uplifting article on Pottermore dedicated to the five lessons about friendship that we learned from Dobby. Any one of us could take a page from this pint-sized pal's playbook on how to be a BFF:
Sometimes you need to show tough love

Help your mates in their hour of need

Stand up for your friends

Keep their secrets

Never let anybody hurt the ones you love
Who wouldn't want a friend that never fails to have your back AND can apparate in times of need?
In honor of the anniversary of Dobby's birth, let's take a look back at how this ragged, humble house elf with a heart of gold arrived just in time to save the day!

Hail to our brave, elfin friend on his birthday! May his memory continue to teach us the true meaning of friendship.
"Heroes are all around us. Their acts may take many forms, some of which we never notice because true heroes don't like to sing their own praises."
Pottermore's full article on Dobby can be found here.
Leaky's coverage of the 20th Anniversary of Harry Potter and the Philosopher's Stone can be found here.
All three parts of Leaky's Anniversary analysis of the Philosopher's Stone are listed below: