Breakfast at Hogwarts!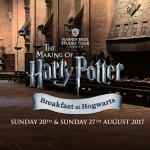 Jul 12, 2017
We've seen dinner in the Great Hall, and now Warner Bros Studio Tour in London are offering the chance to enjoy your summer morning with a breakfast in the iconic set!
Remember seeing wizard cereals in the Harry Potter films, such as Cheeri-Owls and Pixie Puffs? Well they'll be on offer along with breakfast canapés, pastries, smoothies and bucks fizz – there's something for everybody. Staff will be dressed in full Hogwarts uniforms (and yes, you can get photos with them!)
Not only will you get to visit the entirety of the tour (including the Hogwarts Express and Forbidden Forest), but you'll also get to meet award-winning filmmakers behind the film. Oscar award-winnning John Richardson (Special Effects Supervisor) will be there to teach you about the mechanisms behind the door to the Chamber of Secrets, as well as Laurent Guild (Costume Designer) who will walk you through getting into Professor Slughorn's armchair suit, where you can get a once-in-a-lifetime photo.
Finish it all off with a complimentary Butterbeer and a look inside number four Privet Drive.
A complete itinerary is as follows:
8.30am: Welcome and registration
8.45am: Studio Tours commence in two groups
9.00am: Enjoy breakfast in the Great Hall with staff dressed in house robes and photo opportunity
9.45am: Breakfast to conclude in Great Hall and guests take the tour
10.00am: Enjoy the tour at leisure ahead of the first tour of the day
Afternoon: Guests depart at leisure
We'd all like to spend a morning at Hogwarts, so if this comes close enough for you, you can attend Breakfast at Hogwarts on either Sunday 20th and Sunday 27th August 2017. Tickets are £99pp for adults and £79pp for children (unless they're under 4, in which case they're free).
Purchase your tickets from July 19th at this link, or by calling 0345 084 0900 – check out full details and an FAQ at the studio tour's official website here. Let us know if you'll be there!
(Featured image from Warner Bros Studio Tour London's official website)