Dressing the Golden Trio: Us Magazine interviews costume designer Jany Temime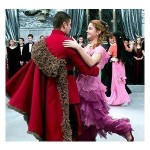 Jul 19, 2017
Award-winning costume designer Jany Temime clambered aboard the Hogwarts Express beginning with the third film, Harry Potter and the Prisoner of Azkaban.  Many fans noted the change in the style of the costumes from the first two films, the most obvious of which was new house scarves.
Ms Temime applied her distinctive vision for each character's wardrobe to the rest of the Harry Potter films, then moved on to costume such major releases as the space disaster Gravity and 007's Skyfall. In celebration of the 20th anniversary of the release of the first book in the series, Harry Potter and the Philosopher's Stone, Temime reminisced about what it was like to work with the main characters, watching them grow up over a decade of filming.  Via an interview with Us Magazine, she shared that Daniel Radcliffe was "an incredible kid. He was preparing his exams at school, he was leading a film. He had such a [full plate] and he never complained. He was always so nice to everybody…"
Of dressing Hermione for the Yule Ball in Harry Potter and the Goblet of Fire, she noted that this occasion was "The first time that she becomes a thing that men could watch, that boys could watch. It was a very important dress." Temime raises a good point: Hermione was already top of the class, "the brightest witch of her year," and now she was also emerging to be a beautiful and desirable young woman. Having brains or beauty is likely to inspire envy amongst one's peers, but having both virtually guarantees it.
Ron, alas had a different problem, according to Temime: "Sometimes I was feeling a little bit ashamed because every teenager wanted to look cool and good and Ron was never looking cool and good. He was always looking ridiculous." But actor Rupert Grint didn't seem to mind, according to Temime, "He is a great actor and he was completely accepting this part and he was completely understanding of the character better than anybody else…He never felt ashamed to wear any of the costumes, which was very appreciated."
Read the rest of the interview here, including why Ron was the most difficult character to dress for the Epilogue that took place 19 years later, which was the first Harry Potter costume she designed, how many robes the cast went through (it was in the five figures!), what she kept as a souvenir, and which Hogwarts house she wanted to be in.
Which was your favourite costume?  Tell us in the comments!