Pottermore announces release of animated 'Philosopher's Stone' on Amazon Kindle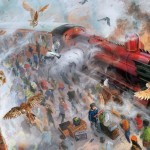 Jul 22, 2017
Ron can stop prodding Dean Thomas's photo of West Ham now because Muggle books now feature moving pictures.  Well, eBooks, anyway.
According to Pottermore, Jim Kay's 2015 illustrated edition of Harry Potter and the Philosopher's Stone will be released on Amazon Kindle on September 5—with a twist:  Some of the illustrations will be animated so they will appear to move like a wizard photo.  The cover will feature a flying owl and smoke wafting from the Hogwarts Express.  Inside, you will find an animated portrait of Draco Malfoy as well as moving goblins, trolls, and a Diagon Alley scene.
If you don't own a Kindle or Fire tablet, you can read Kindle in Motion books via a free app that is available for both Apple and android devices.
You can pre-order this eBook from Amazon.com or Amazon.co.uk.
Tell us in the comments which book scenes and characters you would like to see as animated pictures.