Raise your wands for Cornelius Fudge (Robert Hardy), former Minister of Magic, dead at 91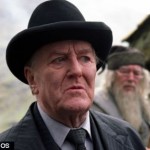 Aug 03, 2017
Actor Robert Hardy, who played Cornelius Fudge in the Harry Potter films, has died aged 91.
Hardy was a prolific British actor of both stage and screen, with many well-known and memorable roles under his belt before he joined the Potter franchise as weak and ambitious Minister for Magic Cornelius Fudge. Ironically, he was perhaps best known for playing Winston Churchill, the Muggle Prime Minister during the Second World War.
Like many distinguished British actors, including Harry Potter co-stars Ralph Fiennes (Voldemort), Sir Kenneth Brannagh (Gilderoy Lockhart), Dame Maggie Smith (Professor McGonagall), Zoë Wanamaker (Madame Hooch), Michael Gambon (Dumbledore), Richard Griffiths (Vernon Dursley), Gary Oldman (Sirius Black), Alan Rickman (Severus Snape), Timothy Spall (Peter Pettigrew), Imogen Stubbs (Dolores Umbridge), and whomever I am forgetting, Hardy got his start in Shakespeare, playing Sicinius in Coriolanus with Lawrence Olivier in 1959.  He achieved widespread fame in the UK when he played veterinarian Siegfried Farnon on the BBC series All Creatures Great and Small for 12 years.  He played Winston Churchill several times, as well as American president Franklin D. Roosevelt.
It must have been an interesting experience playing two wartime leaders after having served in the Royal Air Force during the war.  After his service, he returned to Oxford University, where he had the opportunity to study with both J.R.R. Tolkein and C.S. Lewis.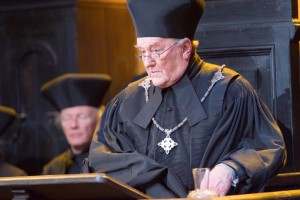 Some of his characters were a bit short-tempered and irascible, traits Hardy was known for in real life.  In his BBC News obituary, he is quoted as noting that, "The ego may be essential for survival in the wilderness of acting, but it's something that requires a great deal of control if you're going to make a success of life."
Hardy spoke about how much he enjoyed playing Cornelius Fudge in a 2009 interview:
I loved my time as Cornelius Fudge, Minister for Magic,….because of
the amusing and wicked people I worked with, like Robbie Coltrane,
Michael Gambon and Maggie Smith, who is an old friend. It was such fun
to film, and there were so many laughs on set that it was hard to come
up with a sober face just before they shouted, 'Action!'
Tributes have begun to appear on social media, including some Tweets from fellow Potter film actors and J.K. Rowling:
So very sad to hear about Robert Hardy. He was such a talented actor and everybody who worked with him on Potter loved him.

— J.K. Rowling (@jk_rowling) August 3, 2017
BBC news tells me Robert Hardy, the Minister of Magic has died. Terribly sad. He was a very kind man who told wonderful stories. xx — Chris Rankin (@chrisrankin) August 3, 2017
R.I.P Robert Hardy. Such a lovely man. Thoughts are with his family at this terrible time ??? https://t.co/2heYDvqrYa

— Devon Murray (@DevonMMurray) August 3, 2017