Holliday Grainger Discusses New 'Cormoran Strike' TV Series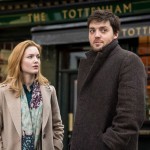 Aug 07, 2017
Holliday Grainger has spoken more about her role as Robin Ellacott in the new Cormoran Strike TV series, Strike: The Cuckoo's Calling. The first book will be split into three hour-long episodes which will air on BBC One. Strike is, of course, based on J.K. Rowling (/Robert Galbraith's) best selling Cormoran Strike detective book series, and will preview on August 10th at the BFI's exclusive event, which will also feature a Q&A with the cast and crew.
In a recent interview on The Chris Evans Breakfast Show, Grainger shares her love of the series:
" I just loved Robin – the character – and Robin and Strike. I loved the books, I was really into them."
Answering a question on Strike's history and complex character:
"I always thought Robin and Strike were the kind of characters you get to know as the series goes on."
Robin, of course, is detective Strike's temp worker, who he begrudgingly 'puts up with', but she slowly grows on him. The interview puts most of the focus on Robin's boyfriend, Matthew, and Strike, and mostly summarises the show, but Grainger shows huge enthusiasm for her role, which we can't wait to hear more of as the series makes its debut! Listen to the show interview below:
A summary of the show is as follows:
"Cormoran Strike (Burke), a war veteran-turned-private detective, operates out of a tiny office in London's Denmark Street with his assistant Robin (Grainger). Though he's wounded both physically and psychologically, Strike's unique insight and his background in the Special Investigation Branch prove crucial in solving complex cases, which have eluded the police."
Find out more about the BFI's preview event here. There's also a new TV edition of The Cuckoo's Calling out on August 10th, which you can see in our latest round-up, here.