Meet the 'Fantastic Beasts' Cast & Crew On Set By Supporting Lumos!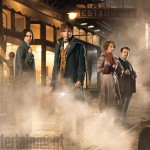 Aug 14, 2017
During a fantastic livestream with Lumos, Alison Sudol and Dan Fogler spoke about a new way to get involved with Lumos in the USA, and a special competition to win a set visit to Leavesden Studios, meet the cast and crew of the next Fantastic Beasts film and two tickets to the Warner Bros Studio tour in London!
Lumos tweeted today that a special announcement would be made during a live stream Q&A with Fantastic Beasts stars Alison Sudol (Queenie Goldstein) and Dan Fogler (Jacob Kowalski). The livestream was hosted by Lumos CEO Georgette Mulheir.
Submit a question about @lumos to @alisonsudol @mrdanfogler by commenting below this post! pic.twitter.com/qAJmNtxg3s

— Lumos (@lumos) August 14, 2017
We're excited for our big announcement today – keep checking our social feeds to be the first to hear! pic.twitter.com/07Tf5FjARx

— Lumos (@lumos) August 14, 2017
Alison and Dan couldn't wait to share the news, of course:
Check out the @lumos twitter or Facebook page for tonight's live chat with @mrdanfogler in 7 min!!! See you soon! Xxx

— Alison Sudol (@AlisonSudol) August 14, 2017
DO IT NOW!! https://t.co/c5XmVGSVzT

— Dan Fogler (@mrdanfogler) August 14, 2017
The competition will give one 'grand prize wizard' – as Dan Fogler called the winner – and their guest a full behind-the-scenes experience of the new film led by producer David Heyman and director David Yates, allowing them to see the set, meet cast and crew members and visit the Warner Bros Studio Tour. This also includes round trip air transportation for two to London, and three nights in a four star hotel in the capital.
If you don't win this prize, one runner up will win a beautiful painting of Newt Scamander by Mouth Artist Henry Fraser, which is signed not only by Eddie Redmayne and Fantastic Beasts cast members, but also by J.K. Rowling herself! Mulheir spoke about Henry's disability, and the importance of his talent and determination in showing the incredible impact of the work that Lumos does.
The competition is hosted by Crowdrise, and is only $12 to enter. The money raised goes to supporting Lumos Foundation USA, of course, and there are multiple perks for donators aside from being in the running to win the above grand prizes. Perks are as follows:
Donate $24 for 2 entries and a digital thank you from Dan Fogler and Alison Sudol
Donate $48 for 4 entries plus a limited edition print featuring original illustrations by MinaLima for J.K. Rowling's Fantastic Beasts and Where to Find Them screenplay
Donate $72 for 6 entries plus an exclusive black "be the light" t-shirt
Donate $2,500 for 208 entries plus a hardcover edition of Fantastic Beasts and Where to Find Them signed by author, J.K. Rowling (in an exclusive presentation suitcase) ONLY 10 Available
Visit the official competition website here to enter. The winner of the grand prize must be available between 16th October – 10th November 2017. Read the official terms and conditions (including who is eligible to enter) here. The competition runs until September 20th at 11:59:59pm ET.
Commenting on the competition, Alison shared that she'd been to the studio tour with John Voight ("Some things are too good for the internet!"), and Dan said he'd been with his family. Both said that the tour definitely did justice to the magic on set, with Dan saying that winning this competition would be like winning the 'golden ticket' from Roald Dahl's Charlie and the Chocolate Factory!
Lumos CEO Georgette Mulheir kicked off the Lumos Q&A by sharing the crucial message that Lumos is aiming to spread across the world, trying to ensure that all children are able to be a part of loving communities by ending the harmful institutionalisation of children and reuniting children with their families where possible.
On what made him get involved with Lumos's work, Dan spoke about his own experience as a father, saying he'd want "a system in place where you knew the money and effort is going to get [your] kid into a house that is going to be safe and going to protect them, not wrapped in a maze of bureaucracy."
He also spoke about his role as lawyer Keith Denholz in Custody, in which he was shown "a world where kids are just stuck … there's so much pulling them away from their actual parents, and so much in place to keep them in the system."
Alison said that an event before Carnegie Hall with J.K. Rowling and Eddie Redmayne opened her eyes to what orphanages are really like, and that around 80% of children in institutions are not orphans, and are vulnerable to all kinds of abuse. She also made a beautiful connection between her environmental activism and the importance of empowering and protecting children:
"I do a lot of environmental work and what I've discovered is the best chance we have for the future is kids …the kids of today have so much ingenuinty, they have so much to give.
 "If we could just nurture those kids …. making sure that kids are empowered in their communities and those kids being given an education and a chance to become good members of their communities, they can take care of the world."
Being a part of Fantastic Beasts has initiated the actors into the Lumos movement to end child poverty and institutionalisation. The charity founded by J.K. Rowling has the aim to raise $1 million with this competition, and we're sure they can do it – the power of Potter fans is staggering! Mulheir said that this $1 million could close 20 orphanages in Haiti, bringing 1000 children back to families.
They went on to do some orphanage myth-busting by answering viewer questions to educate viewers on the importance of Lumos, and both did an amazing job at showing how listening to experts in humanitarian organisations can open your eyes to worldwide issues that we have the power to change the world by – as J.K. Rowling said in her Harvard Commencement speech (published as Very Good Lives with all proceeds going to Lumos) – 'imagining better', and then acting on that vision, of course!
"We do not need magic to change the world, we carry all the power we need inside ourselves already: we have the power to imagine better."
'The damage the children have suffered' was what Georgette said was the biggest challenges Lumos experience in working with children, speaking of the trauma, physical neglect and social inhibitions. The impact of helping these children, however, gives life-changing results, bringing light to the lives of children who would have otherwise continued to suffer.
Dan gave a great answer to summing up Lumos in one word (it was more than one word, though):
"It's light, it's hope, it's just a really good idea … to help our children have a brighter future"
See the live-stream via twitter, which gives previews of the competition perk prizes, below. Don't forget to enter the competition here!
Stars of the sequel to #FantasticBeastsandWheretoFindThem @AlisonSudol & @mrdanfogler are LIVE w/ @lumos launching … https://t.co/MHEp8B4zxu

— Lumos (@lumos) August 14, 2017