See James and Oliver Phelps at Steel City Comic Con!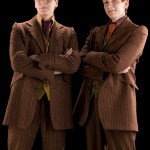 Aug 16, 2017
Steel City Comic Con, one of the largest comic cons in the US, just announced that James and Oliver Phelps will be attending the Pittsburgh area convention along with a variety of other celebrities this December!
The Phelps twins, who of course play the lovable pranksters Fred and George Weasley, are among the few Harry Potter cast members that tend to frequent conventions and other Harry Potter events, but every appearance is a new chance for fans from different parts of the world to meet them in person. Fans lucky enough to attend Steel City Comic Con this year will now have their own opportunity to meet this hilarious duo.
With over 100,000 square feet of convention space and 750 vendor tables, Steel City Comic Con is one of the biggest in the US. They offer many opportunities to meet TV and film celebrities along with Q & A's, panels, and autograph and photo opportunities with your favorite celebrities. You can also take part in the Steel City Con's cosplay, trivia contest and costume contests! This year's convention will be held December 8th-10th at the Monroeville Convention Center. The Phelps twins should be in attendance all three days of the convention, however, there is no details available currently on times for their Q&A or autograph opportunities.
James and Oliver have recently made appearances at Harry Potter: The Exhibition openings in a number cities around the world since it began in 2009, as well as a few appearances at Dallas Comic Con, as previously reported on by Leaky, and MegaCon in Florida in 2016. They were also in attendance at the Harry Potter Celebration in Universal Orlando for its debut in January 2014 and were present at the Opening of the Wizarding World of Harry Potter in Universal Studios Hollywood in April 2015. They will hopefully continue to excite us with more guest appearances in the future so even more fans will be able to meet them in person.
Tickets for Steel City Con are currently on sale for a discounted price until November 19th, but can be purchased online at full price after that date as long as they are still available! For more information and to purchase your tickets visit Steel City Con's website.