Cheers to Helen McCrory on Her Birthday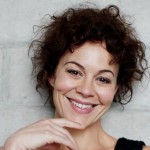 Aug 17, 2017
Helen McCrory, the popular English actress who is best known to the Potter fandom as Slytherin matriarch Narcissa Malfoy, celebrates her 49th birthday today. Before we take a look at what McCrory's been up to since her days in the Potterverse, let's examine her Wizarding World character a bit further. First off, the name "Narcissa"– initially the term narcissist might come to mind. By definition a narcissist is a person who has excess admiration for themselves. All opinions of mother Malfoy aside, it would be tough to prove that this half of the Black sisters duo ever put herself first. Indeed, it was her love for Draco that drove her; from the Unbreakable Vow at Spinner's End through the Battle of Hogwarts. McCrory had this to say about Narcissa's character in an 2011 interview with the LA Times,
Even though it is a fairy tale and even though these people are archetyped and she is the archetyped wicked stepmother character from fairy tales, eventually, her redeeming feature is that she is a wonderful mother and she protects her son Draco and she is changed through her son.
Image credit: Warner Bros., Pottermore
In fact, couldn't it be said it was that very motherly love which transfigured her into the most potent catalyst in the entire saga? If Narcissa would have chosen to out Harry to Voldemort in the Forbidden Forest, as opposed to lying to the Dark Lord to find Draco, how might the culmination of the entire epic been altered? Would there be a "Nineteen years later" had this witch who was raised to believe in the philosophy of pure blood purity chosen allegiance to supremacy over her devotion to her son? The argument can certainly be made that no epilogue would exist.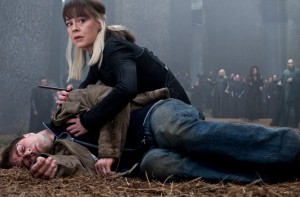 Image credit: Warner bros., Pottermore
As we consider re-examining Narcissa's value to the outcome of the story, it will be interesting to learn how her family tree influences the Fantastic Beasts sequels and the unfolding of Grindelwald's narrative. Perhaps Narcissa Malfoy's importance will surprise us. (Readers will note that the LeStrange Family line is mysteriously absent in the Malfoy family tree, though we are now well aware from a glimpse of her in the first Fantastic Beasts, that ancestor of Bellatrix, Leta LeStrange did attend Hogwarts with Hufflepuff protagonist Newt Scamander) More will be revealed…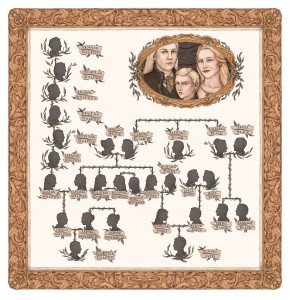 Image credit: Pottermore. An enlarged image of the Malfoy Family Tree can be found on Pottermore here.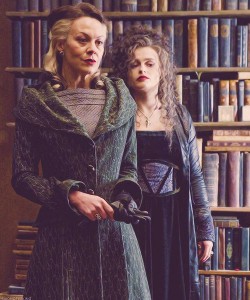 Now that we've paid homage to her character, let's spend some time on the actress herself. McCrory, who is  married to actor Damian Lewis, was originally cast as Bellatrix Lestrange in the Order of the Phoenix but was  replaced by Helena Bonham Carter when she became pregnant with their first child. She was later cast as Narcissa  in Half Blood Prince.  
Post-Potter McCrory has spent time on stage as well as screen; both big and small. She played the title role in the  2014 revival of Medea at the Royal National Theare for which she won the Critic's Circle Theatre Award for Best  Actress. She appeared in the 2012 edition of James Bond, Skyfall, as well as two films with a couple of fellow  wizards, the 2014 period drama  A Little Chaos, which was directed by and starred the late Alan Rickman, as well as last  year's war dramedy Their Finest with Bill Nighy who played Rufus Scrimgeour in Deathly Hallows Part 1. She voices the part of Louise Chevalier in her next film, Loving Vincent, an animated biography about Vincent Van  Gogh  that is receiving a great deal of attention prior to its release next month.  Each of the film's 65,000 frames is  an oil painting on canvas, using the same technique as Van Gogh, created by a team of 115 painters.
McCrory can be seen all over the small screen lately as well. She plays Aunt Polly Gray, member of the Peaky Blinders gang in the British TV crime drama by the same, she appears in the Showtime horror series Penny Dreadful as spiritualist Madame Kali, who is ironically the leader of a powerful group of witches. Most recently McCrory can be seen in the lead role as human rights attorney Emma Banville in the six-part crime thriller series Fearless alongside Michael Gambon, Harry Potter's Albus Dumbledore.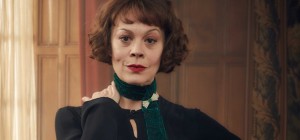 In honor of Helen McCrory's special day, let's give some thought to how Narcissa Malfoy's might fit into the big picture of the Wizarding story moving forward–or backwards, and let's wish this brilliant actress a very happy birthday!