Emma Thompson in 'The Meyerowitz Stories' and 'The Children Act'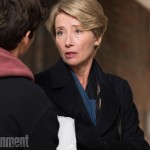 Aug 20, 2017
Emma Thompson (Professor Trelawney) will star in a Netflix film The Meyerowitz Stories, which had its debut at Cannes and also stars Adam Sandler.
A summary of the film is as follows:
"The Meyerowitz Stories explores the intergenerational struggles between a dysfunctional New York family who reunite to celebrate the work of their domineering sculptor father. Even in just the short teaser, Meyerowitz looks like it is quintessentially a Baumbach film. The trailer doesn't give away much in terms of plot, but it does showcase the film's talented ensemble which includes Sandler, Ben Stiller, Dustin Hoffman, and the always delightful Emma Thompson."
The film will release on Netflix on October 13th. Read more here and see a teaser below.
She's also set to star in The Children Act, an adaptation of Ian McEwan's 2014 novel of the same name – the screenplay was written by McEwan himself.
"It's such an extraordinary story," Thompson tells EW. "And the greatest glory of this particular job for me has been meeting judges, specifically female judges of the Family Court. When I came to know these female judges and spent time watching them and shadowing them, I began to get a sense of the enormity of their task. And how incredible they are. It really is the cold face of justice because they're dealing with real people. The fact is that Family Courts deal with domestic crises — and at the center of those crises is often a child."
Thompson will portray Fiona Maye, a judge in Britain's Family Court of Law who tackles a case involving 17 year-old Adam (played by Dunkirk star Fionn Whitehead) with leukaemia belonging to a faith which prevents him having a blood transfusion.
See the first photo from the movie below!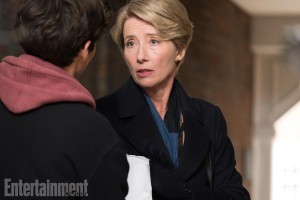 Read more at Entertainment Weekly here.