New Robert Galbraith Website Released As 'Strike' Made Debut on BBC One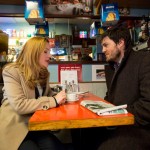 Aug 29, 2017
The first episode of Strike: The Cuckoo's Calling had its debut on BBC One on Sunday night,  and fans were not disappointed. With a peak of 6.2 million viewers, the show's opening received positive reviews and a promising outlook.
After the second episode aired on Monday night, reviews continue to acknowledge Tom Burke and Holliday Grainger's excellent portrayals of Cormoran and Robin, and Digital Spy notes the way the show manages to play into detective tropes yet somehow avoid clichés and gimmicks, commenting that the BBC may have another Sherlock on their hands!
Many were also impressed by the way Tom Burke handled Strike's use of a prosthetic limb without drawing attention to his disability in a patronising or gratuitous manner. Director Michael Keillor commented on this, saying that they didn't want to 'shy away' from showing Strike's injury. He gave details on exactly how they shot the scenes:
"I'd seen this film, Rust & Bone, where Marion Cotillard gets both her legs taken off in an accident. So I kind of studied how they did that using greenscreen technology, then we used trick photography to remove the leg."
J.K. Rowling recently commented on her interest in playing with the conventions of detective fiction:
"Part of the appeal and fascination of the genre is that it has clear rules. I'm intrigued by those rules and I like playing with them. Your detective should always lay out the information fairly for the reader, but he will always be ahead of the game. In terms of creating a character, I think Cormoran Strike conforms to certain universal rules but he is very much of this time."
Read the full feature piece on Radiotimes here.
On top of two episodes of Strike, Robert Galbraith has a new website, featuring what we can only assume is J.K. Rowling's Cormoran Strike desk – in full JKRowling.com style, there are character and plot notes, photos from filming and scripts scattered across the screen with a couple of hidden links. Take a look for yourselves here!
The final episode of Strike: The Cuckoo's Calling will air on Sunday at 9pm on BBC One.