LeakyCon Day One: '19 Years later' Opening Ceremony & More!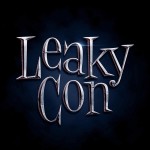 Aug 31, 2017
LeakyCon kicked off this afternoon at the Citywest hotel in Dublin, setting up an unforgettable weekend 19 years later.
We gave guests a sneak peak at the Marauder Pass bags, containing all kinds of special Potter themed surprises – we won't spoil, but we hope you're enjoying the surprises if you've already received your bag!
Here's a sneak peak at the Marauder Pass bags for #LeakyCon – you're in for a treat! @LeakyCon pic.twitter.com/f8M4V4XHHQ

— The Leaky Cauldron (@leaky) August 31, 2017
The Marketplace opens tomorrow morning, but the MinaLima stall could be seen in the hall getting ready for the big opening!
Excited to see @minalima setting up at the Citywest ready for @LeakyCon! #LeakyCon pic.twitter.com/lBwXFP93hJ

— The Leaky Cauldron (@leaky) August 31, 2017
Before registration guests wandered the grounds of the Citywest, which is absolutely beautiful:
Make sure you explore the Citywest if you're here for @LeakyCon! It's beautiful, and there are rabbits 🐰 Registration opens in 10 MINUTES! pic.twitter.com/NHpsXT0ZYI

— The Leaky Cauldron (@leaky) August 31, 2017
Then it was time for the Opening Ceremony! Brutal Ballet opened with an atmospheric Macbeth-esque performance, followed by the opening of this year's LeakyCon story, which will continue over the course of the weekend (kicking off again at 10:30am tomorrow). McGonagall and Neville opened the scene, preparing for another year at Hogwarts – McGonagall insisted on Neville calling her Minerva, which he was (understandably) stunted by. Hogwarts was looking for a new Defence Against the Dark Arts Professor. The scene changed to the annual Weasley family gathering, and Teddy Lupin finally had his portrayal on stage. James greets him, and we find that Teddy had left on 'angsty adventures', leaving James disgruntled at his abandonment. Teddy then reveals that he's been asked to be the new Dark Arts professor, which James (again, understandably) is horrified by. Lysander joins the scene, and James is shocked to find that he knew Teddy was going to be their professor. Dominique Weasley is introduced (she also knows Teddy's news), and James is shocked to find that she has a girlfriend (Katie Murray).
James then reveals his 'big secret' to Lysander, that he found the Marauder's Map, and plans to cause mischief at Hogwarts this year – what mischief? We'll have to wait to find out!
That's a wrap on the amazing opening ceremony of @LeakyCon, introducing us to Teddy, James, Lysander, Dominique and her girlfriend, Katie! pic.twitter.com/IKXUaJReYP

— The Leaky Cauldron (@leaky) August 31, 2017
Some excellent fan performances of scenes from Cursed Child followed, including a particularly memorable performance of the '19 Years Later' scene at Platform Nine and Three Quarters:
Excellent performances of the #CursedChild script at @LeakyCon, currently performing the '19 Years Later' scene to prepare for tomorrow! pic.twitter.com/I3yddhUeX9

— The Leaky Cauldron (@leaky) August 31, 2017
Day One will conclude with a night of Wrock, including performances from Amy Snow, Lauren Fairweather, The Whomping Willows and Tonks and the Aurors.
Keep posted on Leaky's twitter here, where we're covering as much as we possibly can of the Leaky schedule live. Tickets are still available if you're in the area – either purchase them at the event, or head on over to the LeakyCon website here.