Happy Birthday to Josh Herdman
Sep 09, 2017
Josh Herdman, best known to the Potter fandom as Slytherin and Draco Malfoy sidekick Gregory Goyle, celebrates his 30th birthday today. Herdman appeared in all eight of the Harry Potter films and managed to live through the Battle of Hogwarts to the end of the saga even though his cohort in crime, Vincent Crabbe, perished in the Room of Requirement from uncontrolled cursed fire.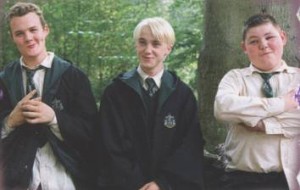 Some of Crabbe and Goyle's more infamous moments in the series were in Chamber of Secrets when Harry, Ron, and Hermione wanted to get more information about the Heir of Slytherin and decided to brew Polyjuice Potion so that they could take the forms of Goyle, Crabbe, and Millicent Bulstrode and question Draco. Fans will remember they put Sleeping Draught into some cakes of Goyle and Crabbe's and they were both out like a light. In Half Blood Prince Malfoy had Goyle and Crabbe use Polyjuice Potion to turn into girls and guard the Room of Requirement while Malfoy was repaired the Vanishing Cabinet.
These days Herdman has gone from the screen to the ring, training in traditional Japanese ju-jitsu. Herdman won his amateur mixed martial arts (MMA) debut in London last year, defeating Janusz Walachowski. His father was a professional boxer and two of both of his brothers have also boxed at the amateur level so it sounds like it's all in the family (no comparison to Goyle and his Death Eater dad!)
Join us in wishing Josh Herdman a very happy 30th birthday!