Happy Birthday! Hermione turns 38!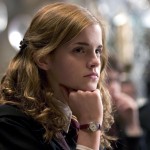 Sep 19, 2017
Today, September 19th,  the brightest witch to (probably) walk the ground of Hogwarts turns 38 this year! As a student at Hogwarts, she learns everything from creating an extremely difficult Polyjuice Potion to punching Draco Malfoy in the face.
So let's review some of my personal favourite Hermione moments and quotes!  (in no particular order because they're all great)
1. That moment when Hermione tells Ron off because he hadn't taken the time to ask her out to the Yule Ball, and thought she didn't have a date because of who she is and what she looks like. She firmly sets him in his place, telling him that he should've asked her out first instead of a last resort. Because why couldn't he just ask her to the ball???
2. Hermione's very first appearance in the books is one of my favourite moments in all of the story. Her debut is memorable, the sass and know-it-all attitude is classic early Hermione. She's still a child, but we can't help but love her just as she is.
3. What would this list be if the infamous Draco-punch wasn't on it? One of the best traits of our girl is that she doesn't stand for being insulted or letting anyone else be taunted either. She's got a fiery tongue, doesn't she? (and of course she throws a great punch!)
4. We honestly will never forget when she accidentally polyjuiced herself into a cat. Despite it being an accident, Ron and Harry have to try to get things done on their own without her help. Granted, it goes pretty well – and if anything good came out of it, they learned that they need to be uber-careful when it comes to hair collecting. For Dumbledore's sake, she turned into a cat?! It was adorable, sad and just such a good moment.
5. Honestly, what would this celebratory post be without mentioning the fact that SHE OBLIVIATED HER OWN PARENTS.  Putting her friends and parents safety first, before her own feelings; makes her an outrageously strong female character. She doesn't hesistate to do what she must, despite the pain it must've caused her.
Even our original West End Hermione, Noma Dumezweni, wished her the happiest of birthdays!
And of Course… Happy Birthday #Hermione Granger Weasley! 💛Nx

— MissNoma (@MissDumezweni) September 19, 2017
So Happy Birthday Hermione, you truly are the brightest witch of your age, and an absolute legend. Let us know your favorite Hermione moments below in the comments!