Lumos is a finalist in MacArthur 100&Change competition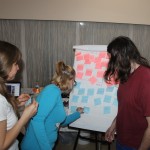 Sep 19, 2017
J. K. Rowling's children's charity, Lumos, is a finalist for a $100 million grant from the John D and Catherine T. MacArthur Foundation!
Lumos, along with two of its partners, Catholic Relief Services and Maestral International, is one of four finalists in the 100&Change competition.
The Lumos website has a wonderful, detailed description of this interesting and unique competition, Lumos' proposal, and how the winner will be chosen.
As part of the selection process, Lumos and the other finalists will respond to public questions online in a weekly series beginning on September 29. The selection of the winner will be live-streamed on December 11.  Let's hope the Felix Felicis is ready by then!
The 100&Change competition fits perfectly with Lumos' mission.  Wish them luck!