MinaLima On Designing 'Harry Potter' and 'Fantastic Beasts' at London's V&A Museum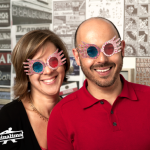 Sep 21, 2017
Last Saturday (16th September), graphic design duo Miraphora Mina and Eduardo Lima (MinaLima) gave a talk on 'Telling Stories Through Design' at the Victoria and Albert Museum in London. Leaky were lucky enough to attend, and hear from the pair on their beginnings on the Harry Potter films, the evolution of their working relationship, and their experiences on set. We also picked up a couple of subtle hints at what we might be able to expect on the next Fantastic Beasts films!
Speaking of their beginnings, Mira and Eduardo gave an idea of how the world of graphic design has changed with the evolution of technology and computer softwares, as well as the appreciation for set design and attention to detail in the film industry since Potter.
Mira discussed changes in technology  in relation to their own work. Having started on Potter in a two-person design department, they now have four assistants, and more resources and technologies at their disposal:
'We used to have no computers at all, and I think that can be quite hard to comprehend in a world where people rely on technology so much – what used to take us days to do, somebody can now do in almost minutes.'
'It's our ability to use [technology] that's changed as well. In terms of creating the aesthetic we strive to achieve, this bridging of handwork and computer work is absolutely critical to us, and I don't think I could ever do one without the other'
Eduardo also stressed that the 'old fashioned' way is still practiced by various artists:
'There are still loads of people who draw sets by hand – they have the software, but the quality n difference of the line is much more beautiful when done by hand. There are some people that refuse to draw on a computer.'
Whilst the duo were busy on the movies, they'd have a few months in-between shoots to pursue individual projects, for example The Imitation Game and The Golden Compass. Whilst explaining some of the work they did on these films, Eduardo also spoke of the possible inspirations current films are taking from the attention to detail on the Harry Potter films:
'The attention to detail in every department was incredible – all films want that standard of detail now. The Imitation Game was a small film, we didn't have the big budget of Harry Potter and Fantastic Beasts, so we had to be even more creative in trying to tell the story'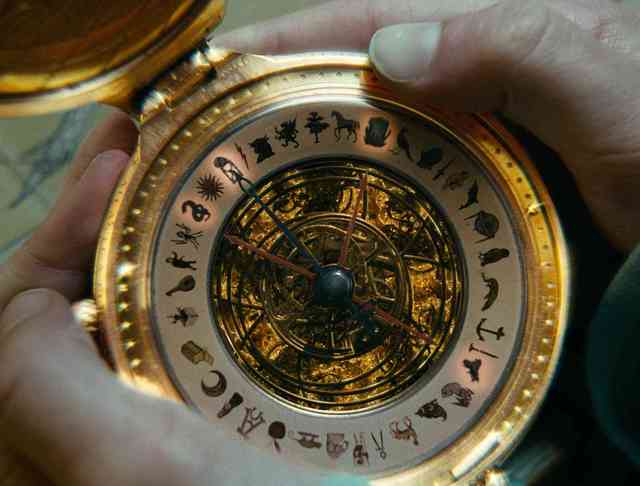 Photo (above): The alethiometer seen in The Golden Compass movie.
The graphic design industry, he said, has also grown. The duo were two in maybe a handful of other graphic designers working in the film industry back in 2001, and now he estimates there are over 200 in London alone.
They also spoke about the end of the movies, and opening The House of MinaLima and their own design studio, continuing to explore their work as partners in design:
Mira: 'We got to the end of the films and kind of realised that we couldn't, you know-'
Eduardo: 'We couldn't get divorced now.'
Mira: 'Whilst it was the end of the film series, it was the beginning of something new for us. Finding someone you can work with, with the same strengths is quite unusual, so we started on the studio and new projects. The film was great and ticks loads of boxes, but we like doing other things as well! It gave us a chance to take on other people and widen the breadth of what we could take on. Right now we're on set but our studio continues to produce work with our stamp on it.'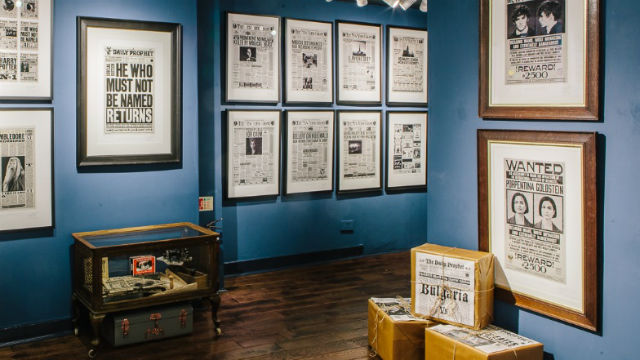 Whilst speaking about their inspirations for movies, Mira said that inspirations could come from anywhere ('Just walking to come here we might have never arrived here because we get so distracted', Eduardo laughed). She also spoke about visiting the V&A Museum itself:
'I visited this place many times on Harry Potter to get inspiration. Sometimes it's quite direct, so you might have a specific prop. Designing the tapestry, for example – it's often about the personality of something rather than just the style, but sometimes it's looking at the shapes of things, for example thinking 'That'll make a really interesting frame for a label that we're doing'.'
More on the Black family tapestry, though. Mira hinted that we could see another tapestry (or perhaps the same one?) in Fantastic Beasts 2, and later spoke about the trouble she was currently having with 'curly' Parisian typography (we know that Fantastic Beasts 2 will visit Paris!).
If not the Black family, who's family history could we be exploring more in the next movie? Newt's? Leta Lestrange? If it's a different tapestry, what 'personality' might it have, if we see the lineage of another wizarding family? We can't wait to find out!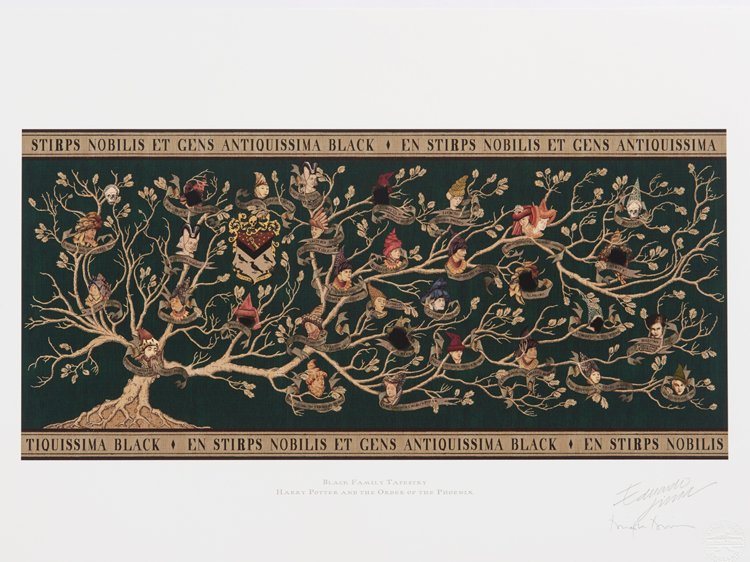 When working on the films, the pair said that they often helped with various other departments and stages of filming, including animation and post-production.Whilst they didn't help with the software side of animation, designing the Howler's movements, for example, and giving prompts to animators was down to MinaLima. They also said that one of the biggest challenges was working with the muggle world, saying: 'Nobody likes the muggle world, even the actors would complain.'
Both also discussed the quantity of props they designed, with many tricky designs often needing to be made in large quantities, or being created in an earlier film and suddenly needing to be revisited in a later movie. Mira gave the example of Helga Hufflepuff's cup, saying it started as 'an innocent thing, a little golden cup', but that if she knew it would need to be replicated hundreds of times in Deathly Hallows, she might have spent more time on it. Eduardo said that one tip J.K. Rowling did give them in this regard was that Advanced Potion Making would appear again in Harry Potter and the Half Blood Prince, giving them more time to design the textbook for later use.
Rather than being a bother, Mira said that it was actually 'a real gift for designers, when you start something and it comes back and you get a chance to revisit it later.' Her favourite prop was the Marauder's Map, both because it was fun to create (she did have to copyright her handwriting to use on the map, however), and needed to be revisited and revised so many times in order to add new parts of Hogwarts to the design.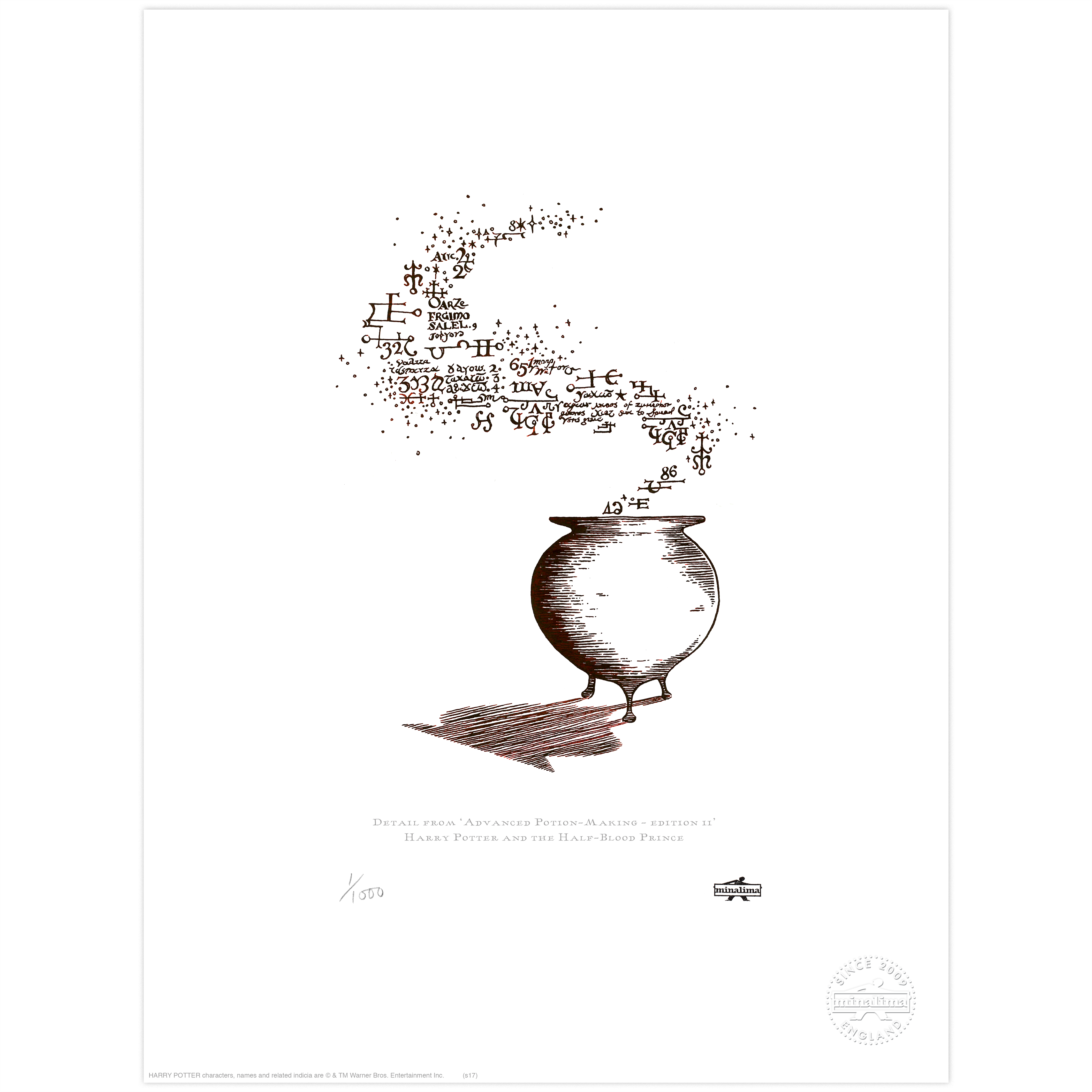 Mira also spoke about having to 'get into the heads' of characters to understand how to design props associated with them. A particularly interesting example given (and one of the reasons for the growth of their department) was Weasley's Wizard Wheezes, which saw MinaLima take on the minds of Fred and George. Mira stressed that they had to change the designs multiple times, opting for bright, fun colors and typography in the end to match what they saw as the personalities of the Weasley twins.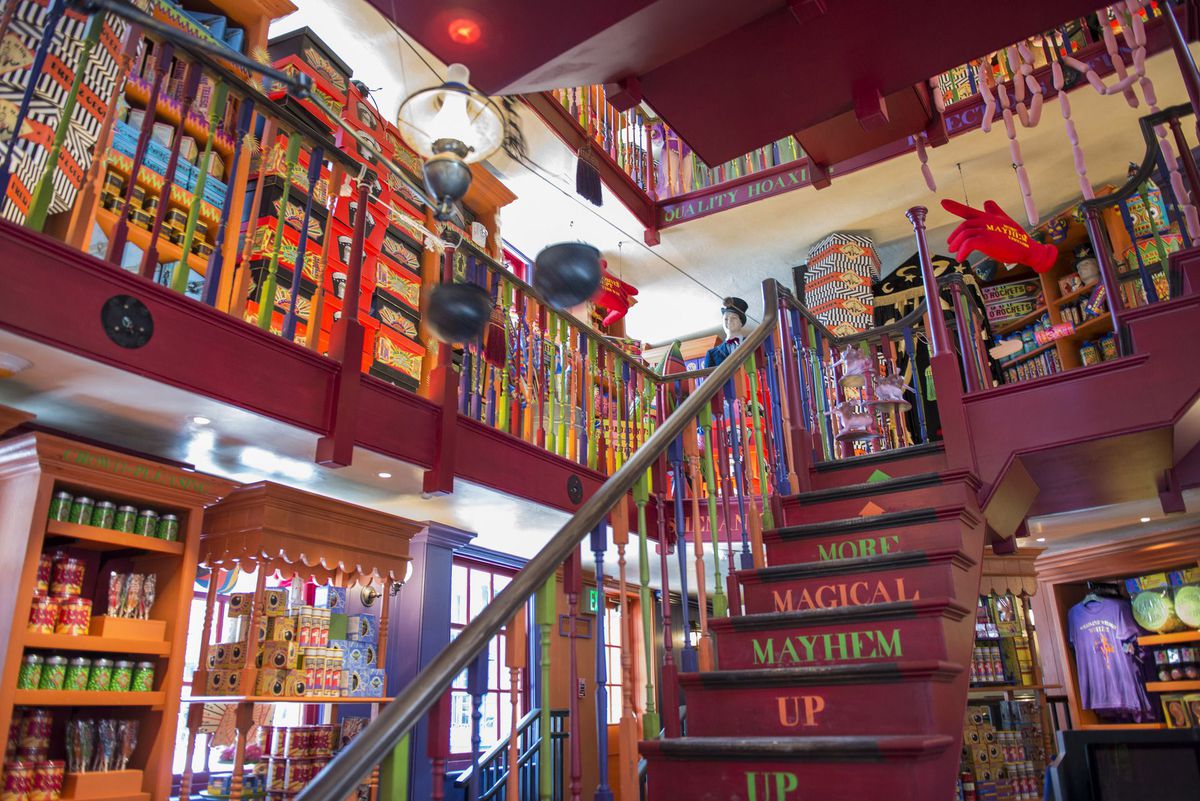 Eduardo said his favourite props to work on were the newspapers. The duo created each headlines for the newspapers, learning an appreciation for the skill of artful authorship: 'Writing headlines is an art', Eduardo laughed.
They also stressed the importance of humour in the films, saying that many forget this and remember the dark, serious notes instead. According to Eduardo, the humor in the newspapers created by MinaLima were what J.K. Rowling liked best:
'One of the set visits J.K. Rowling had, she come to see us and we had loads of our newspapers on the walls – she was reading every headline very carefully and we we're like 'Oh no!'. She came back and asked us, 'Who writes all that?' , and we told her, and she said it was perfect, and how it should be.'
They also answered a variety of questions from hopeful students and practitioners of graphic design in the audience, giving advice on how to get into the industry. Their million-dollar advice was to pay attention to detail, have a portfolio, an ability to research and as much experience as possible. They gave their talk in a lecture theatre in the museum's upper wings, and said that they wished college and university courses would invite experienced designers in to speak about the industry more often.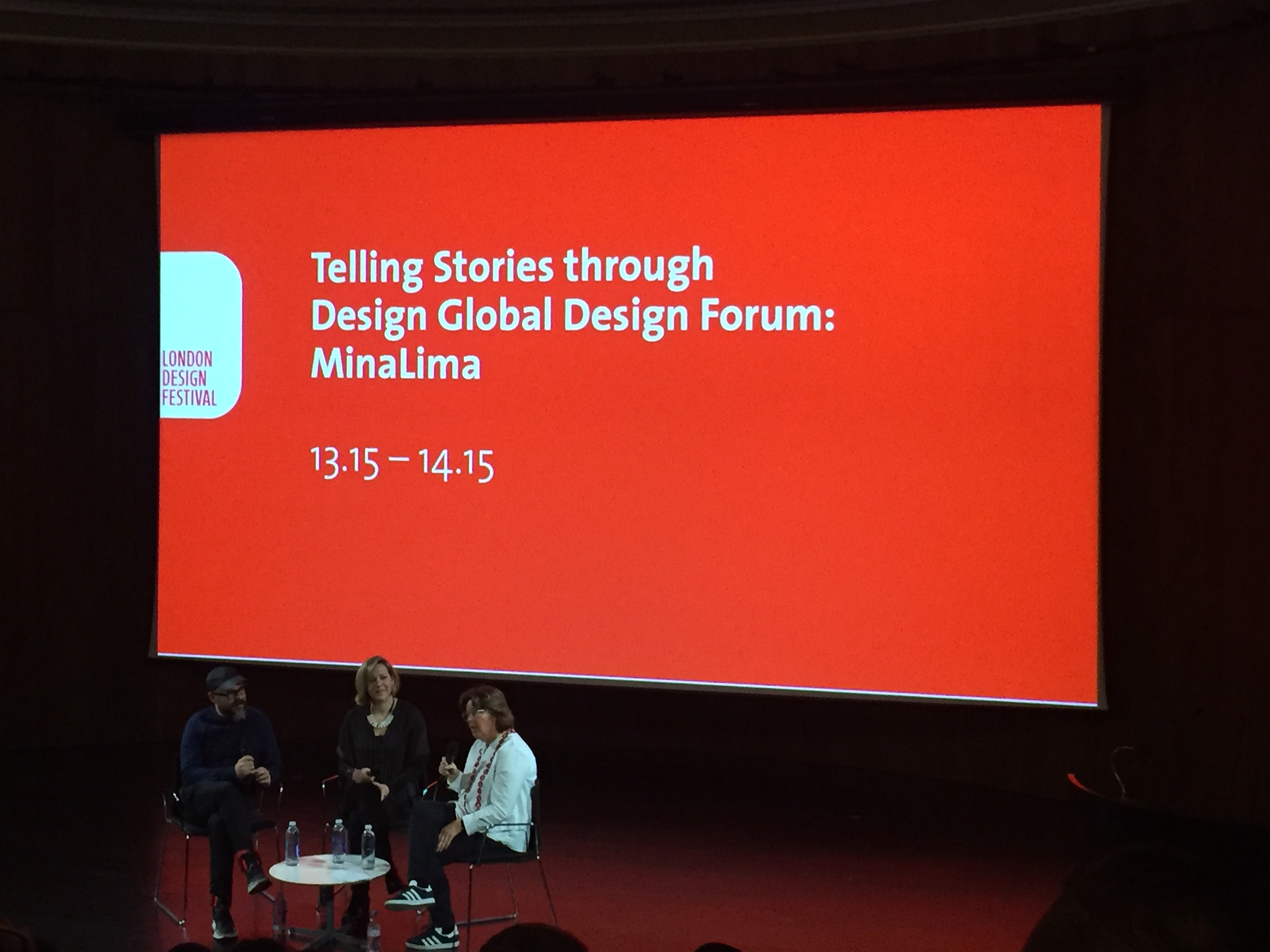 This talk was a pleasure to attend, and it was great to hear from the duo on their career thus far, and their experience on the movies – we can't wait to see what they've been working on in Fantastic Beasts 2! If you're ever in London, be sure to visit the House of MinaLima (just round the corner from Cursed Child's Palace Theatre) to explore their work – it's certainly eye-opening to see just how much the pair created for the films.
What would  you want to ask MinaLima if you had the chance?