Expecto Patronum! 'Harry Potter' Stars Take Pottermore's Quiz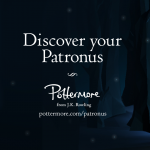 Sep 22, 2017
On Friday, Pottermore celebrated the one-year anniversary of its Patronus Quiz, beckoning muggles from across the fandom back into the wizarding world with a personalized glimpse of their magical abilities. In honor of the occasion, Pottermore released videos of three Harry Potter stars taking the quiz.
Tom Felton, Slytherin Draco Malfoy, Matthew Lewis, Gryffindor Neville Longbottom, and Warwick Davis, Professor Flitwick and the goblin Griphook, all submitted themselves to J.K. Rowling's finely-tuned algorithm with much good humor and, perhaps, just a bit of trepidation in hopes of discovering the identity of their own silvery corporeal Patronus.
Felton went first–and admitted to battling some nerves!
Of the options given, he selected "shine" over "glitter" or "glow." He was then faced with a choice between "lead," "save," or "escape" but, unable to answer quickly enough, was forced to try again. On his second go, he chose "over" rather than "under" or "around," followed closely by "comfort" instead of "advice" or "impress." Watch the video below to see his Patronus unveiled. (He was quite the good sport!)
Matthew Lewis also braved the quiz, saying, "I'm going to discover my Patronus, which I've been wanting to know since I was a small boy."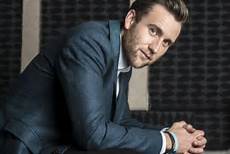 Lewis was presented with a choice between "sun," "wind," and "rain" and enthusiastically chose "sun." He was slightly taken aback by the darker options of "blood" or "bone," but seemed to hover over "blood." Last, he easily settled on "play" over "prowl" or "preen," only to be somewhat surprised and amused by the final outcome. Watch his "moment of truth" below!
Warwick Davis completed the trio and acknowledged, "I'm not really sure what I want from a Patronus." Still, he gamely went through the quiz like his former co-stars, determined to "go into this open-minded and see what we get."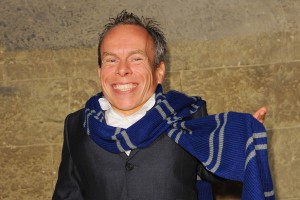 Like Lewis, Davis also had to choose between "sun," "wind," and "rain" but immediately went a different way, declaring, "I like a bit of storm!" as he selected the "wind" option. Next, he went for "improve" over "make," citing it as environmentally friendly. He then grappled with the deep philosophical question "who" or "why," settling upon "why." He reasoned, "I'm always questioning things. I want to know why." See the outcome of his quiz below!
Now you, too, can visit Pottermore and discover the whispy but remarkably-powerful animal form of your own Patronus. Take the quiz if you haven't already! Were you surprised? What do you think this says about your personality, and is it consistent with what your house sorting reveals of your character? Share your thoughts and results with other fans in the comments section!