Harry Potter: The Exhibition Is Coming to Madrid!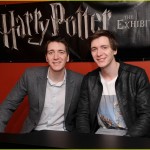 Sep 26, 2017
If you live in Spain or will be visiting Madrid anytime soon, then be sure to visit Harry Potter: The Exhibition when it comes to Madrid for the first time!
The exhibition (a partnership between GES and WB Consumer Products) has toured Boston, Toronto, Seattle, New York, Sydney, Singapore, Tokyo, Paris, Shanghai, Brussels and The Netherlands, and has hosted 4 million visitors!
"Harry Potter: The Exhibition has been an enormous success all around the world. My granddaughter insisted we visit the exhibition in New York and I was struck by the beautiful scenery and amazing artifacts. I knew then I had to find a way to bring it to European fans and I am delighted to now be part of the team presenting it in Spain," says Pascal Bernardin of Encore.
As part of the experience, several fans are sorted into their Hogwarts houses, then shown original settings, costumes, creatures and props from the films, including the Gryffindor Common Room, Potions and Herbology classrooms (and more) and the Forbidden Forest. Not only this, but guests are also invited to enter the Quidditch area, pull their own Mandrake in the Herbology classroom, and even tour Hagrid's hut!
An exclusive audio tour is also available, providing behind-the-scenes insight into the making of the Harry Potter films, with commentary from the producers, prop designers, costume designers and creature designers.
The exhibition will be hosted at Pavilion 1 of IFEMA from November 18th 2017 through January 28th 2018. Madrid will be the only Spanish city within the exhibition's European tour. Tickets are on sale now here, and are priced from €13.90 (excluding service charge), with audio guides available to order separately.