"Harry Potter: A History of Magic" opens in one week!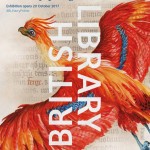 Oct 13, 2017
Pottermore has released a very short teaser trailer for the Harry Potter: A History of Magic exhibition which opens at the British Library on the 20th of October—that's one week from today, Friday the 13th. The exhibit will run through February and then it will all be shoved into a magic suitcase and move to New York.
As Leaky has reported previously, the exhibit will showcase over 100 artefacts from the British Library's collection or on loan from other institutions, original artwork by Jim Kay and Olivia Lomenech Gill, and some contributions from J.K. Rowling herself, including whimsical sketches and early drafts of her manuscripts.
The Telegraph has produced a  wonderfully illustrated article with more teasers from the exhibit than in the trailer.
A handwritten and bejewelled edition of The Tales of Beedle the Bard that famously sold for £368,750 ten years ago at Sotheby's will also be on loan for the exhibition from its American buyer.
Each room of the exhibit will be themed as a Hogwarts classroom.  You can read more about the process of curating the classrooms here.
The exhibit forms part of ongoing celebrations in 2017 of the 20th anniversary of the publication by Bloomsbury of the first book in the series, Harry Potter and the Philosopher's Stone.  The exhibition's U.S. debut in 2018 will coincide with the 20th anniversary of the publication by Scholastic of Harry Potter and the Sorcerer's Stone.
Whether you can't get to the exhibit or you intend to see it twenty times before Christmas, you are going to want to preserve it by purchasing one of the accompanying books, Harry Potter: A History of Magic and/or the family edition, Harry Potter: A Journey Through the History of Magic.  Waterstones is holding a contest to win tickets to the exhibit if you pre-order either of the books from them.  Ordering information can be found here.
This is one History of Magic lesson you won't fall asleep in.  Check out the mini-trailer below: