The Hogwarts Express Saves the Day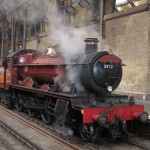 Oct 17, 2017
This may sound like a missing chapter from one of the Harry Potter books or perhaps a line of fan fiction, but it looks as though our favorite wizarding "school bus" recently made a real-world rescue.
Jon and Helen Cluett and their four children, ages 6 to 12, were camping in the Scottish Highlands where they had paddled their 16-foot canoe to a lakeside hut they were using. They awoke last Friday morning to find that their water rig had disappeared and unfortunately (they thought at the time) the family's car was parked three miles away.
As Cluett told the BBC, he felt like the boggy hike back to the car was too far and cumbersome for his young children, so decided to call the local police and enquire about getting assistance back to their vehicle. The response Cluett received was one any Harry Potter fan would have been delighted to hear,
"We've arranged for the next train passing to stop for you, and you're not going to believe this but it's the Hogwarts Express steam train. Your kids are going to love it."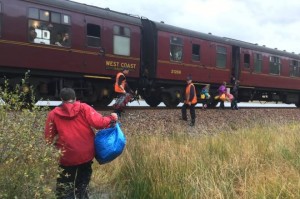 Image credit: Jon Cluett
The train that made an unscheduled stop to pick up the stranded Cluett clan was the Jacobite, the actual steam train Warner Bros cast to transport Harry and friends to Hogwarts every September 1 in the films. The familiar red locomotive is used for excursions on the UK's West Highland Railway Line, crossing the iconic 21-arched Glenfinnan Viaduct that is also featured on the way to Hogwarts Castle.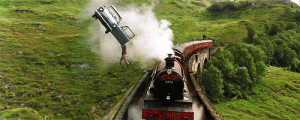 It just so happened that the Cluett children are Harry Potter fans, so according to their father they were, "really excited" by the experience.
We can imagine they were! What a story they have to tell. We hope they took plenty of photos along their journey.
Interested in taking a ride on the real-life Hogwarts Express? Information on booking tickets for the Jacobite can be found here. Let us know if you make the trip!