The Yule Ball Comes to 'Hogwarts in the Snow' at the WB Studio Tour London!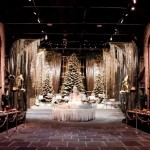 Oct 17, 2017
The popular "Hogwarts in the Snow" exhibit returns to the WB Studio Tour London this holiday season. Sets from the Harry Potter films will be transfigured into a magical winter wonderland from Nov. 18 to Jan. 28–with one new twist! For the first time, the Great Hall stage will be prepped for the Yule Ball at it was for Harry Potter and the Goblet of Fire.
The official WB Studio Tour release hints at the incredible makeover in store, though we doubt words can do it justice! The Great Hall will be lined with snow-laden Christmas trees and bedecked in "shimmering silver, dripping icicles and sparkling snow." Magical musical instruments gilt in matching silver will preside over the occasion, ready at any moment for another enchanting waltz under Professor Flitwick's masterful direction.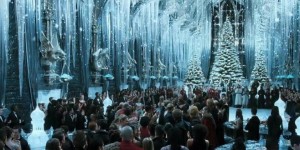 The description also says a spectacular Yule Ball sculpture will hold a place of honor in the center of the hall. Made from resin and complimented by imitation ice, it will be a prop at which to marvel!
In addition to the Yule Ball décor at the front of the Great Hall, the long dining tables will be set for the festive holiday feast as in years past, tempting visitors with puddings, turkeys, and cherry-dotted hams so remarkably dressed as to be mouth-watering!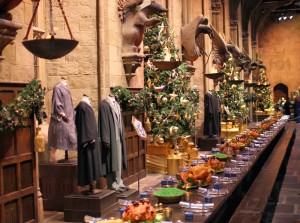 The Gyrffindor Common Room and Boys' Dormitory will be decorated for Christmas as well using original props from the films, such as handmade cards. According to the release, some of the Christmas cards were even made by cast members during production! The fireplaces will also be "lit" with an inviting, warm glow, perfect for chilly winter days padding around Hogwarts' drafty rooms and stone floors. The effect will be recreated by John Richardson and his SFX team "using a combination of water vapour and lighting effects."
Finally, the Hogwarts castle model will be dusted with "snow" made from "granulated paper and grains of salt." Fans will even be able to touch the many different kinds of snow used during filming and delight at the set dressers' ability to transform Harry Potter's world and produce such realistic results–from softly falling snow to the sparkling, crunchy snow along the ground.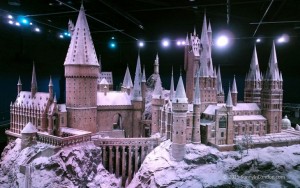 Visit the WB Studio Tour London site to book your tickets to this year's tour of the "Hogwarts in the Snow" exhibit!
Also available is a special opportunity to dine in the Great Hall! The WB Studio Tour site shows this once-in-a-lifetime holiday meal is only available for three nights: Dec. 11, Dec. 12, and Dec. 13.
This evening of culinary wizardry will start with a two-course Christmas dinner in the Great Hall to be followed by the standard tour–though, in this case, not only a feast for the eyes! While on Platform 9 3/4 guests will select from decadent dessert bowls and then enjoy a glass of Butter Beer in the backlot café to finish off the meal. Finally, in true Yule Ball fashion, the evening will close with music and dancing!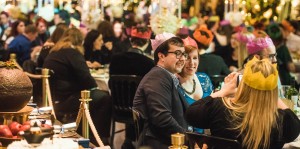 To attend this amazing experience, visit the WB Studio Tour site for "Dinner in the Great Hall." Tickets are available Oct. 24 starting at 10 a.m. They won't last long!
And if you can't make it to London, Potter fans, your Christmas season is not entirely ruined. Christmas is also coming to Universal Studios Orlando Resort with a beautiful wintry makeover of the Wizarding World of Harry Potter theme parks. According to a previous Leaky report:
"As night falls, a magical holiday transformation of Hogwarts castle will take place right before guests' eyes. Incredible state-of-the-art projection mapping and special effects will wrap the iconic castle–bringing holiday spirit and memorable Christmas moments from the Harry Potter series to life like never before.
Festive décor like ornate garlands will line the streets of both Hogsmeade and Diagon Alley. Each storefront will be decked out with uniquely-themed decorations, and guests will enjoy special holiday themed food, drink and entertainment."
The holiday season will also come to Universal Studios Hollywood with equally-lovely and festive décor! Leaky expounded:
"Along with the already snow-topped buildings in Hogsmeade, Hogwarts will be decked out for the season with its own snow-capped roofs and a spectacular Christmas tree. The Hogsmeade village will add decorative wreaths and garlands to their storefronts and The Three Broomsticks will feature an array of holiday food and drinks."
It seems there will be plenty of opportunities to celebrate the magic of Christmas with the Harry Potter fandom this year. Where will you be headed?!