First Broadway Cursed Child Tickets Fly Faster Than a Firebolt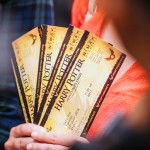 Oct 18, 2017
It's been a We-Won-the-House-Cup kind of day in the Potterverse for some, and a frustrating or disappointing day for others, as fans navigated the first release of Harry Potter and the Cursed Child tickets on Broadway.
Access codes and a link to their golden ticket began arriving on mobile devices early this morning to those who had been randomly deemed the chosen ones by Ticketmaster. As the clock struck 11AM EST those lucky muggles took to the internet and began the process.
We have heard that for some, it was a easy as waving a wand to conjure their desired date, number, and seat and afterward the excitement could be heard throughout the fandom:
Got our tickets for @HPPlayNYC on Oct 13, 2018!!!!! Have to wait an actual year, but I'm going!!! #HarryPotter #Broadway #HPPlayNYC pic.twitter.com/KQcmsSbecm

— Sara Leopold (@SaraLeopold22) October 18, 2017
So excited to get #broadway tickets for #cursedchildnyc @hpplaynyc #hpplaynyc! Ready for some Harry Potter onstage! pic.twitter.com/3tbsjlWeVy

— Ben (@nycbenben) October 18, 2017
And this is what those lucky few saw when they reached the promised land:
I'm going to see Harry Potter and the Cursed Child on Broadway 🔮⚡️💞✨💖💫💘🌟💝https://t.co/KrtqwG2g8E@jk_rowling @HPPlayNYC #CursedChildNYC

— Lore (@medicenlore) October 18, 2017
Others had a little bit more difficulty procuring their prize including error messages, payment problems and various technology-related issues:
#CursedChildNYC Ticket Search Alert: performances prior to April 25, 2018 are experiencing an error. We are actively working to resolve. pic.twitter.com/rCHCyqWepi

— Ticketmaster (@Ticketmaster) October 18, 2017
I got tickets, tried paying, wouldn't let me, now I can't purchase any others. Please can you look into this?

— Aidan Booth (@AidB) October 18, 2017
Meanwhile those who were in standby, stood by patiently and waited to see if their turn would come.
Harry Potter and the Cursed Standby #CursedChildNYC #CursedChild pic.twitter.com/8NzNg9yCRx

— Chloe Ewer (@LaVieTheatre) October 16, 2017
A few hours after the sale went live, the code-less crowd thought they may still have a chance, when Ticketmaster posted this message:
#CursedChildNYC UPDATE:
A limited amount of @HPPlayNYC #VerifiedFan Access Codes are being released to randomly selected fans on standby.

— Ticketmaster (@Ticketmaster) October 18, 2017
We hope some of those who didn't originally receive access, eventually had the chance to spend their galleons.
By 5PM EST the first round of anxiously awaited Cursed Child tickets had disapparated. It's no surprise that a fandom this passionate about their Potter would buy out the award-winning play's first eight months at the Lyric Theater in a matter of hours.
All tix for our 1st release have now sold. Don't worry! There will be plenty more chances to buy tix before previews begin. #CursedChildNYC

— Cursed Child NYC (@HPPlayNYC) October 18, 2017
To wrap up the day, the play's New York website announced that more tickets will be released prior to the show's previews which begin March 16, 2018. For those who weren't lucky enough to score seats this time, get that Felix Felicis ready for round two!
Sign up to our newsletter & we'll be in touch soon about future ticket releases. https://t.co/yevptQTR95 #CursedChildNYC

— Cursed Child NYC (@HPPlayNYC) October 18, 2017
Interestingly, though the play has gone to great lengths through the Verified Fan system to keep scalpers and bots from buying up tickets, at least one third party vendor is selling seats to Harry's first trip to Broadway for as high as $6500. Only time will tell if those tickets prove to be valid at the door, but fans might think twice before robbing Gringotts to snag them.
Did you get Cursed Child tickets today? Let us know!