Fan Favourites Returning to A Celebration of Harry Potter 2018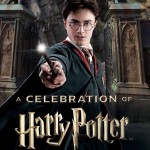 Oct 26, 2017
Returning January 26th-28th 2018, A Celebration of Harry Potter at The Wizarding World of Harry Potter (Universal Orlando) will host a huge range of fan activities, we're excited to share the details with you!
First off, a 2017 Highlights video has been shared by Universal to let newcomers know what they might be in for:
They then confirmed that the Chalk Art Walk will return for their next event.
Seriously, what kind of insane magic are these people are using?!
Beautiful @FantasticBeasts chalk art at #HPCelebration. pic.twitter.com/yWbWiDQDH7

— Pottermore (@pottermore) January 28, 2017
Film screenings (complete with Butterbeer), fan trivia in the form of the Harry Potter Knowledge Challenge and Beauxbaton and Durmstrang demonstrations will also return:
Watch more of the lovely ladies of Beauxbatons in action at #HPCelebration! pic.twitter.com/3nrS9BLBfb

— Harry Potter Film (@HarryPotterFilm) January 28, 2017
Wand Combat Choreographer Paul Harris will also teach you how to conduct yourself in a duel. You'll be surprised how important it is that you've picked up a suitable wand at Ollivanders, but given that the wand chooses the wizard, we're sure you'll be fine.
Last year also saw Pierre Bohanna walk us through the prop department, MinaLima on graphic design. guest Q&A panels, special announcements (remember when Warner Bros Studio Tour announced the Forbidden Forest?!) and more, so stay tuned for more updates!
Check out more details below, read more from last year's event here, and more on special guests appearing at A Celebration of Harry Potter 2018 here.
New #HPCelebration details have just been announced at https://t.co/C28XGvEXUK! pic.twitter.com/gt5o4frhgy

— Universal Orlando (@UniversalORL) October 26, 2017