Seattle Dad Conjures Diagon Alley in His Driveway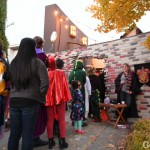 Nov 01, 2017
For Potter fans in the Pacific Northwest who aren't able to make it to the Wizarding World of Harry Potter anytime soon, fear not. A replica of the iconic magical street from your favorite series, Diagon Alley, has apparated to a Seattle-area driveway.
Father extraordinaire, Jonathan Chambers, a tech wizard with a talent for art, design, carpentry, and some spare time on his hands, has cast a spell on his neighborhood with a new project inspired by his kids' love for Harry Potter.
ICYMI: Ballard father creates replica Diagon Alley for trick-or-treaters https://t.co/tjR3xb1QGZ #Halloween2017 #komonews pic.twitter.com/BishFHh0Xv

— Mike Perry (@MikePerryKOMO) October 31, 2017
Chambers recently told Geekwire about the undertaking,
"I've always wanted to do something massive for Halloween or Christmas," Chambers said during a break in construction this week. "I was born the day before Halloween, and October is like my power month. So I decided to quit my job and focus on this crazy thing."
After a few months of planning, two of weeks of work in his extensive garage wood shop, the likes of which would fascinate Arthur Weasley, and countless volunteer hours, the enchanted street opened just in time for trick or treaters on Halloween. Chambers counted over 2500 visitors by the end of the evening and the count is up to 3000 after night number two.
Chambers and company built six storefronts that will be familiar to fans including Quality Quidditch Supplies, the Magical Menagerie, Flourish and Blotts, Madam Malkin's, the Owl Emporium, and of course Ollivanders. Guests enter through a hole in the fabricated brick wall opposite Chamber's masterpiece-in-the-works Gringotts at the far end. Many of the details have been created with a 3D printer, including a golden snitch over the door of the Quidditch shop as well as beautifully crafted digital drawings in the windows to bring the facades to life. The family even planned for actors to peruse the Alley on Halloween dressed as some of our favorite Potter characters.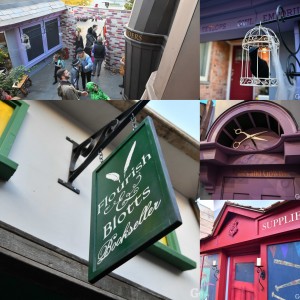 Image credits: Geekwire/Kevin Lisota
Chambers said this about his 7 and 11 year old daughters' love for the series,
"Obviously I loved the movies when they came out, and when they came out the girls weren't born yet, I don't think,"[….]"It seems like there's a resurgence of Harry Potter. For two years now the girls have been obsessing over Harry Potter. Everybody's having Harry Potter birthdays and there's Diagon Alley in London and Universal Studios [The Wizarding World]."
And his girls, who became fans just in time for five new prequel films and an award-winning Potter play, seemed thrilled to be helping out with this magical project: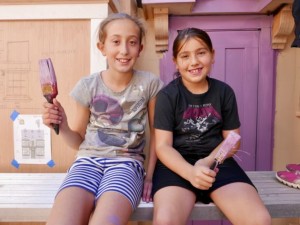 Image credit: GeekWire/Kurt Schlosser
Part of these young witches' motivation went far beyond fantasy and fun. A well-known entrepreneur in their community recently died of pancreatic cancer and the girls took an interest in his story and why his disease wasn't able to be cured. It was their decision to donate any proceeds the Chambers receive to that cause.
Meanwhile it looks like the project's creators are hoping to get a nod from the maestro herself, J.K. Rowling,
@jk_rowling Please, can @dummaloop's #diagonalleyproject get a mention?https://t.co/4xoYwS5gtK … Raising money for Pancreatic Cancer Resarch

— Jason (@IndelibleFink) November 1, 2017
We'll do our part to let her know!
Today Leaky chatted with this wizard of a dad to inquire if our namesake Pub was a part of his grand scheme, to which he replied,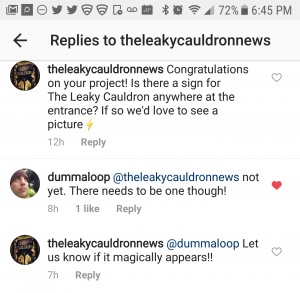 Check back with us to see if The Leaky Cauldron annex appears in this Seattle driveway!
If you're in the Seattle area, you can visit Chambers' Diagon Alley through Christmas.
Click here to donate to the pancreatic cancer research fund chosen by the family.